It's 06.57am and the first Whats App message comes through:
"Weather 7-13 cloudy"
The sun has just risen, and already a Koala Researcher is walking through the gum trees, looking. The morning is full of life – Laughing Kookaburras & Rufous Whistlers are yelling, and Swamp Wallabies bound past – but he is the only human in it.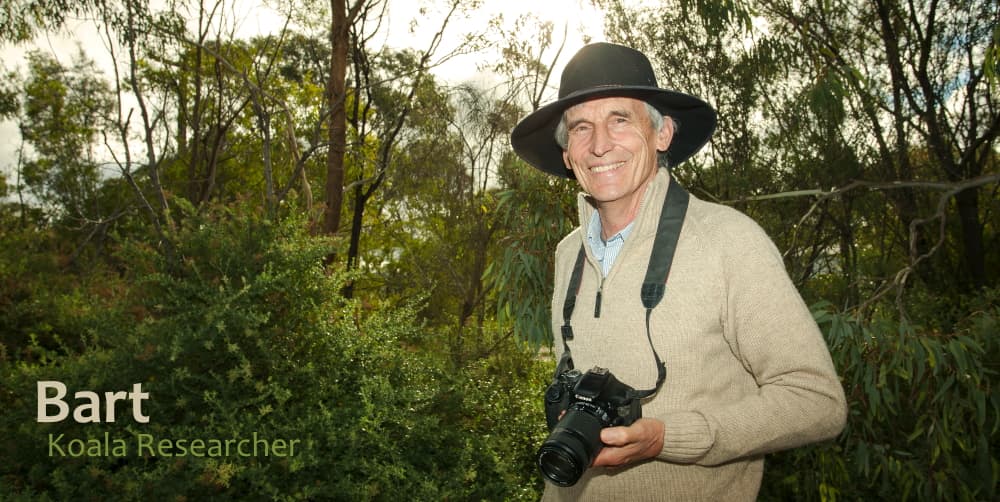 Rugged up in the Melbourne winter morning, 65-year old Koala Researcher Bart walks through River Red Gum forest that he has walked thousands of times. Sometimes he finds a wild koala within minutes of arriving. Other times it takes an hour.
Wild koalas are usually silent and immobile. Their home ranges exceed 20,000 trees and they can travel 1km overnight. So finding one is like finding a needle in a haystack – there's no clues, no way to make it easier. Just walk and look, walk and look. Persistence, luck and a calm head always pay off.
..
On a completely different day, 23 year old Caitlin is sporting a blue Koala Researcher t-shirt at 6am. It's going to be a hot one, and she's started early to find the koalas before they move into shady hiding spots.
Caitlin is a Masters student specialising in Conservation at Deakin University.
She finds five koalas including Clancy, and her work is done. But another koala decides to say hello.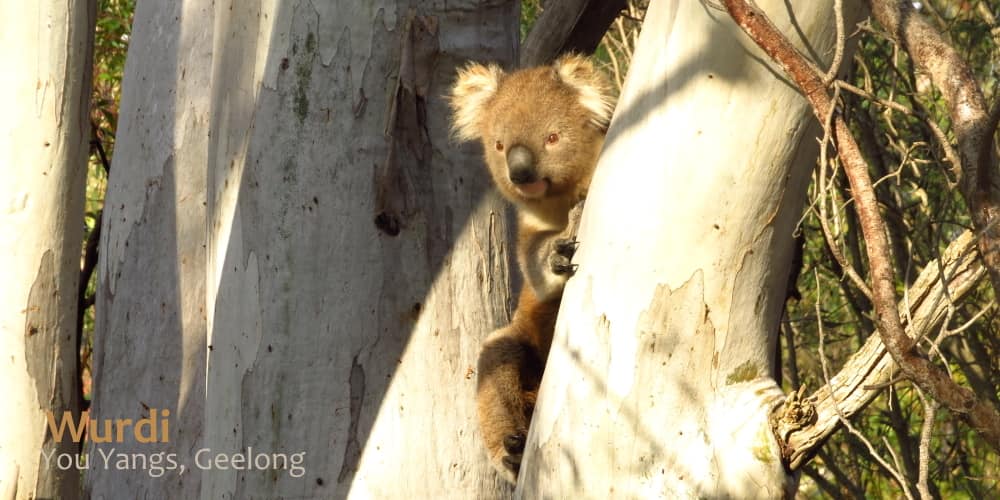 Wurdi, the first son of Koala Clancy, has been independent since 2015 and hardly seen in that time. But he has seen Caitlin, many times.  Koalas see humans more often than humans see them.
As she drives slowly along the road, Wurdi climbs out of his tree and walks onto the road. He stops.  Sits down and looks at her.
She stops. Gets out. Squats on the ground 10 metres away.
Wurdi looks at her. Human and koala spend a beautiful five minutes just looking at each other.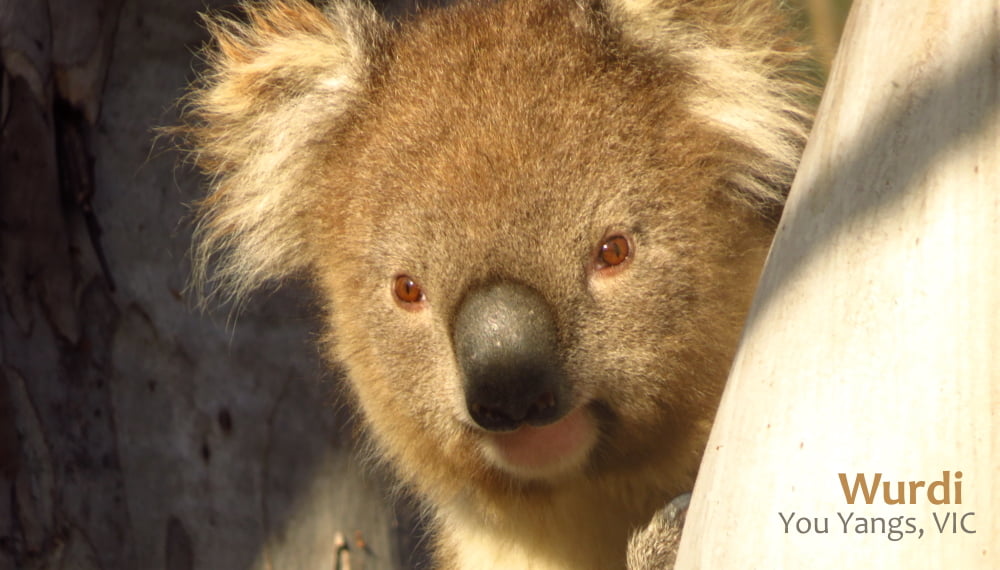 Then another car is heard approaching and Wurdi runs to the nearest tree.
Why did Wurdi do that?
We have no idea. But we have noticed that when a wild koala becomes accustomed to an individual human – which can take months or years – they can develop  curiosity about that human. All of the senior researchers have had well-known koalas stop on a tree trunk at eye level and stare at us. It happens particularly when the researcher is alone.
I think it has to do with their vision. Koalas smell and hear well, but their eyesight is average. From high in a tree they are aware of us, but it's mostly the smell and sound of us they know. Occasionally, they are down low enough to see us clearly and they look at us with interest, for longer than they need to. It feels like they are thinking: "Oh, so that's what you look like!"
..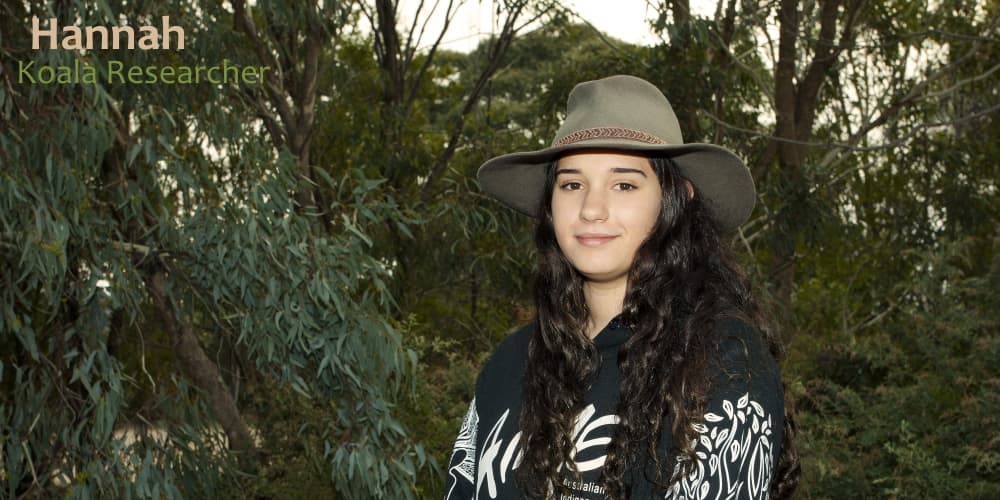 21 year old Koala Researcher Hannah is not just walking in koala land, she is walking the land of her ancestors. Hannah is an Aboriginal woman of Wemba Wemba, Yorta Yorta and Dhudhuroa heritage. She lives on Wathaurong / Waddawurrung land and is part of the Wathaurong Aboriginal Community.
Hannah provides most of the names of new koalas in the You Yangs population, from Wathaurong language words.
Lakorra, the daughter of koala Ngardang, means sky. Ngardang means mother.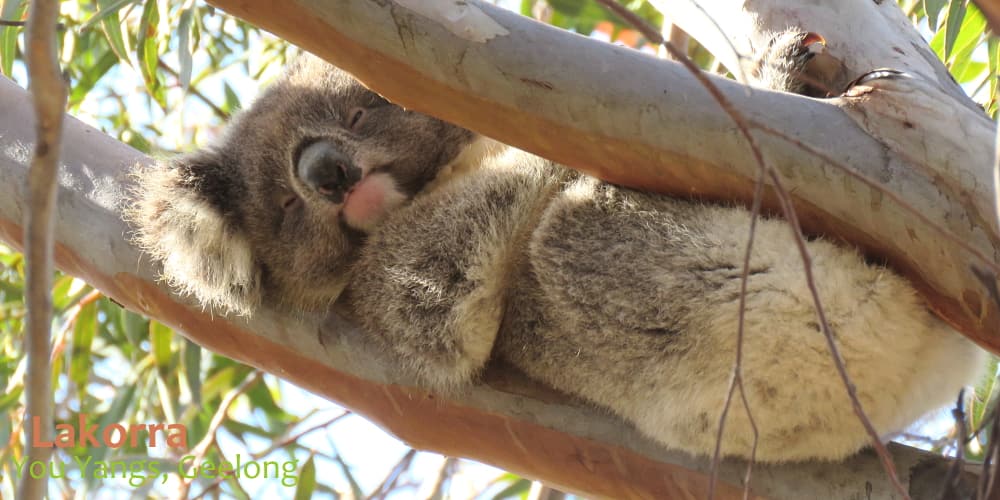 Gulkurguli means boy. He is one of the dominant males now, but when first met he was a boy.
Karrborr, the new joey of Babarrang, means koala in Wathaurong.
..
Koalas live wild in the You Yangs ranges, as a healthy, under-abundant and declining population. They are declining due to climate change. Thirteen years ago there were nearly three times as many koalas as there are now. Read about our koala population research here. 
It is hard doing a job that entails watching the thing you love decline. But collecting that data is critical to changing that prognosis. Data provided by our Koala Researchers, Wildlife Guides and tour guests, has formed the basis of our koala habitat protection and koala tree planting programs. Read about our Koala Tree Planting program here. 
Even with the challenges, our koala researchers still find koalas. On Echidna Walkabout day tours we don't guarantee a koala sighting, but our success rate is very very high*. Our researchers keep looking for as long as it takes, and help each other when it is difficult. If you are a tourist, you know that every effort was made and no expense was spared to find you a wild koala.
..
Jordan, Tracey and Janine complete our Koala Researcher team. All are Geelong locals (except Janine, who splits her time between Staughton Vale, north of Geelong, and Melbourne) and keen naturalists. Jordan is studying Conservation and Land Management at the Gordon Institute, Tracey is a former research scientist at CSIRO.
Janine started the wild koala research project in 1998. She discovered that koala's noses held the key to identifying them as individuals, and starting taking notes of everything she saw. These days she manages and checks the data, as well as spending on average one day per week in the You Yangs.
They are all different, but share a love of the Australian Bush and all its creatures and a drive to ensure that koalas survive well into the future.
..
When you travel on the Great Ocean Road 3 day, Sunset Koalas & Kangaroos or Koalas & Kangaroos IN THE WILD tours you might not meet your Koala Researcher, but you'll see the results.  You might even get great photographs like this:
If you do see them, thank them – they are amazing, determined and passionate and go over and above every single day.
..
NOTES & REFERENCES:
* At the date of writing, our success rate of finding koalas on these tours is 100%.  However, we work with wild animals in a declining population, so that could change at any time.
Our not for profit Koala Clancy Foundation organises the tree planting and community awareness. Learn more: https://koalaclancyfoundation.org.au/