Spring is an exciting time in the forests of southern Australia: its baby koala season!
Koala joeys usually emerge from their mother's pouch in July, August and September. They have been in there for six months, but mother koalas are experts at hiding their baby bumps. Usually the first clue is the sudden appearance of a fully-furred, cute koala baby!
For the 2019 You Yangs koala baby season, we have five new arrivals…so far. There might still be another one out there waiting to emerge.  UPDATE: There was another – tiny Yeera appeared with her mum Wemba in mid October!  Read about her – and get updated photos of the others – here. 
..
WINJKU (pronounced wing-ku)
Ngardang – Gulkurguli
Emerged: 14 June 2019
Name: -Winjku means freshwater in the Kunwinjku language of western Arnhem Land & Kakadu. Read more about this word here.
When Winjku emerged, the You Yangs was experiencing record drought-breaking rainfall. Janine & Roger were in the Top End at the time, listening to the exciting reports of rain and baby koalas.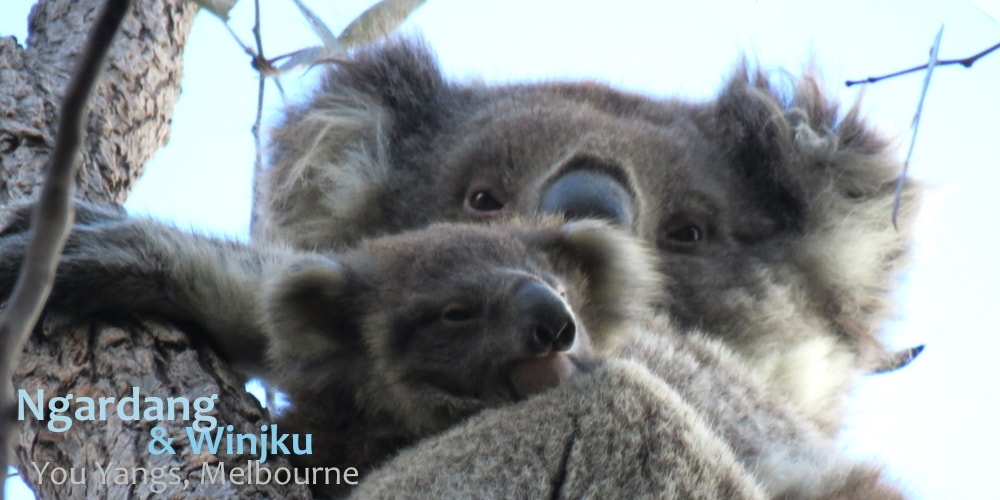 Winjku is a curious joey, who looks at our Koala Researchers and Wildlife Guides a lot. We haven't seen her leave mum's embrace yet, so it seems that she is a bit of a snuggler.
Winjku is Ngardang's fourth joey. Big brother Wurdi was born in 2016; sister Lakorra in 2017; and brother Bunyip in 2018. As far as we know, this is Ngardang's first joey with Gulkurguli, the new dominant male in the area.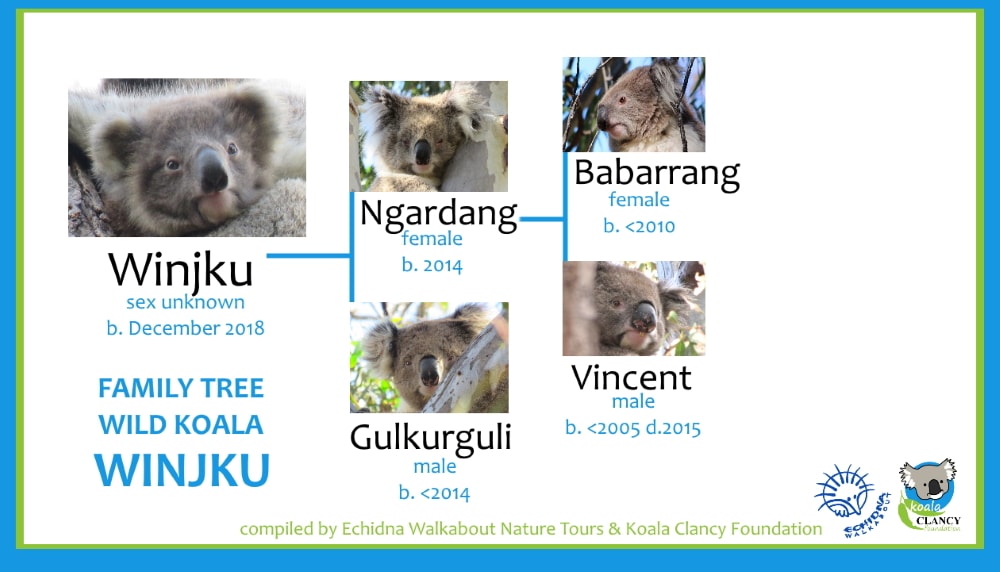 ..
INDI (pronounced ind-eye)
Kozo – Mabo
Emerged: 15 July 2019
Name: Indi is one of the traditional Aboriginal names for the Murray River that divides Victoria from New South Wales. It is particular to the upper reaches of the Murray – near its source in the high country of far East Gippsland.  We also enjoy seeing baby koalas in East Gippsland on the Wildlife Journey.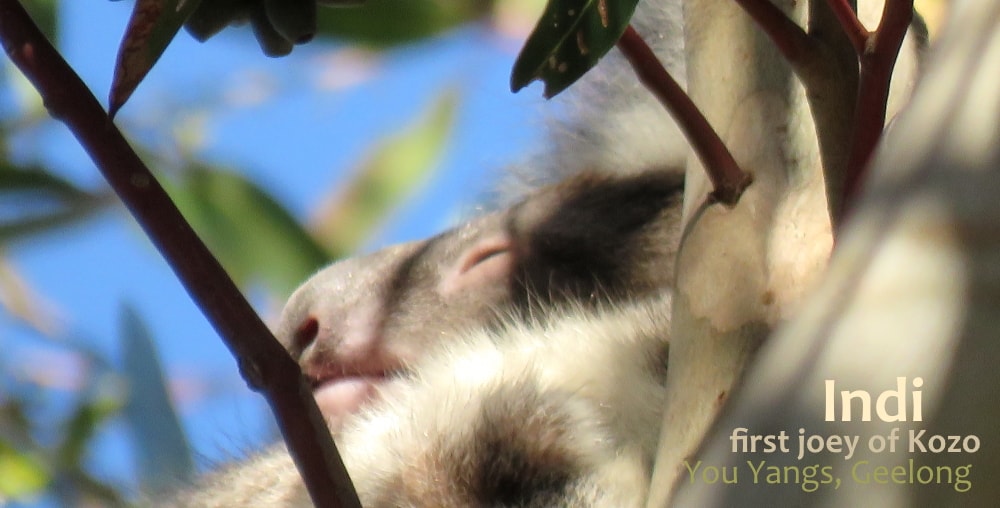 Indi is Kozo's first joey. We were particularly excited to hear about this baby, because we were worried about Kozo in the extreme heat events of January 2019. She seemed lethargic, not coping with the 46 degree C heat and we had to spray her with water multiple times. We thought it might be because she was young, just 2 years old, but we now know that it was because she was pregnant with Indi. No wonder she was tired.
It is incredible that both mother and baby survived those extreme heat days.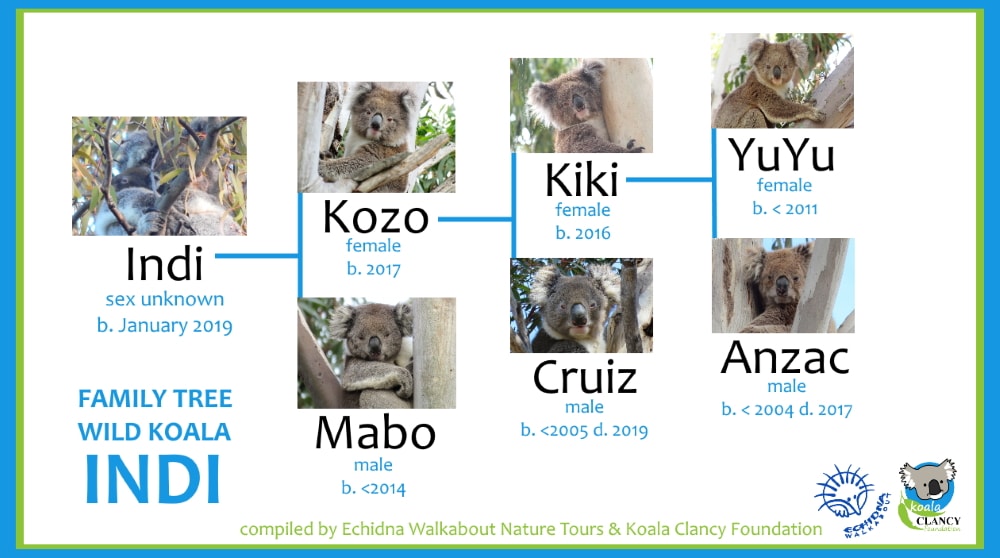 ..
MIMI
KiKi – Gulkurguli
Emerged: 21 July 2019
Name: Named to honour the Mimi spirits of the Top End. Mimi are lithe, dancing spirits that feature in Aboriginal art from around Gunbalanya in Arnhem Land. See an example of Mimi dancing spirit art by Injalak Arts here.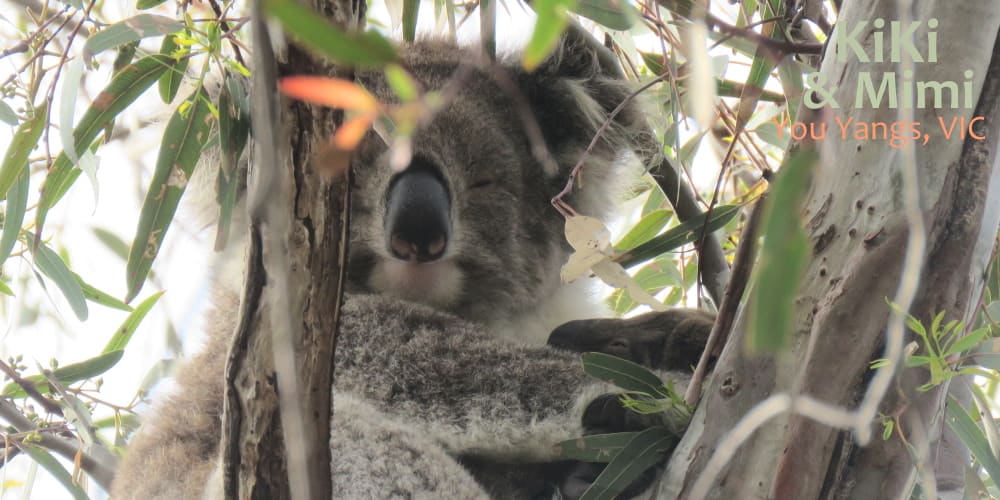 Baby koala Mimi is already an active little dancer. At just 7 months old he is already confident climbing away from his mum, and is grabbing leaves to taste.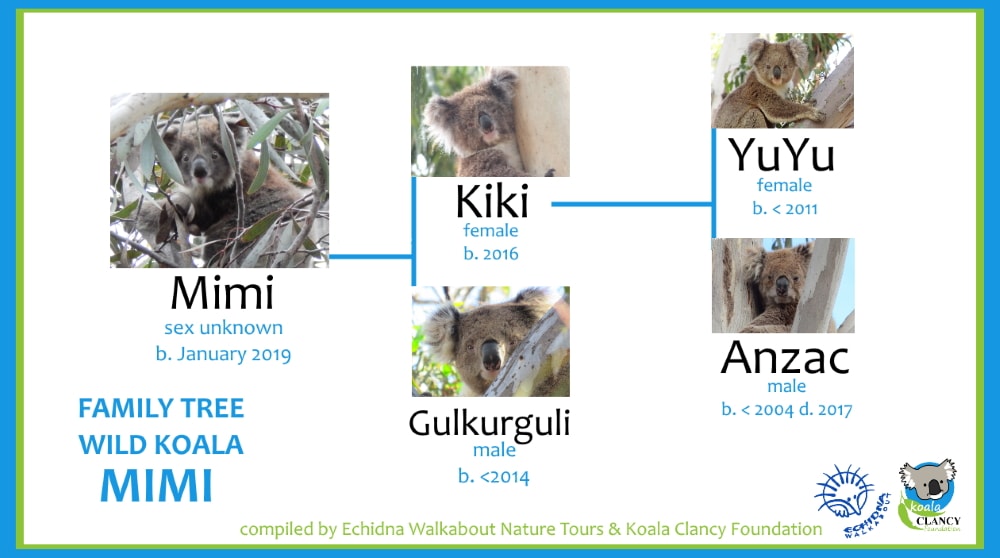 ..
KARRBORR
Babarrang – Bungaleenee
Emerged: 31 July 2019
Name: Karrborr is the Wathaurong Aboriginal word for koala. We like to use Aboriginal names so that everyone who hears them learns a bit about our indigenous cultures.
Karrborr is a surprise baby. Her mum Babarrang has had five joeys that we know of: unnamed joey in 2013; Ngardang in 2014; Djadja in 2016, Burun in 2017 and now Karrborr in 2019. We think Babarrang is at least 9 years old, and by that age most female koalas in the wild have retired from motherhood.
Karrborr is also the first joey that we are confident is Bungaleenee's. Bungaleenee has been a dominant male since 2011, but we haven't recorded females going to him in breeding season. That doesn't mean they haven't, we just haven't seen it.
..
YARRA
YuYu – Zack
Emerged: 12 August 2019
Name: Named to honour the Yarra River that flows through Woiwurrung country and into Melbourne. The Yarra River was mis-named by early European invaders – the woiwurrung name for the river is Birrarung, and yarra means waterfall or flow.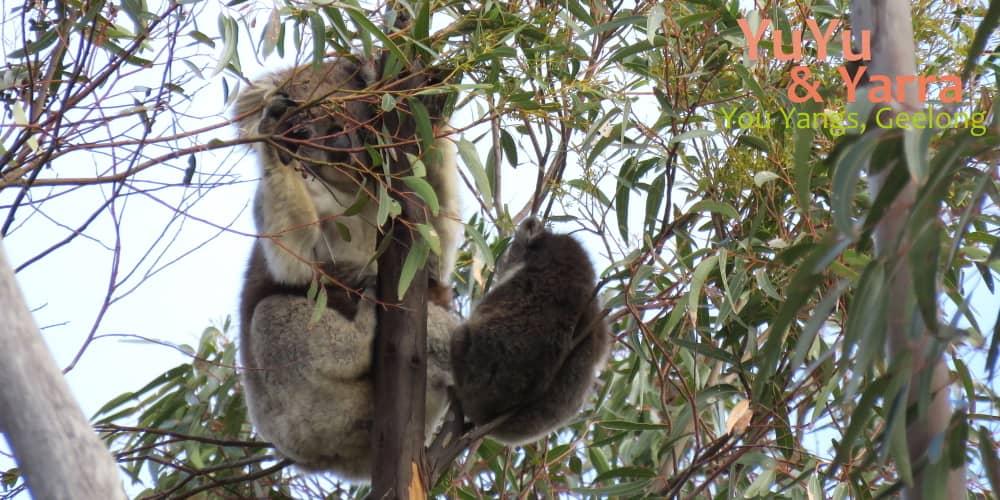 Another very happy surprise, Yarra is YuYu's fourth baby. YuYu has successfully raised female CoCo, born in 2015; KiKi in 2016; and male Bobo in 2017. All those joeys are now full-grown and independent and still living in our research area.
Like Babarrang, YuYu is not a young koala – she is at least 8 years old.
Yarra is the first known offspring of Zack, who we think has taken over dominant male status from Anzac. He is still being hounded by Lluvia though, so we don't know how many more joeys he will have.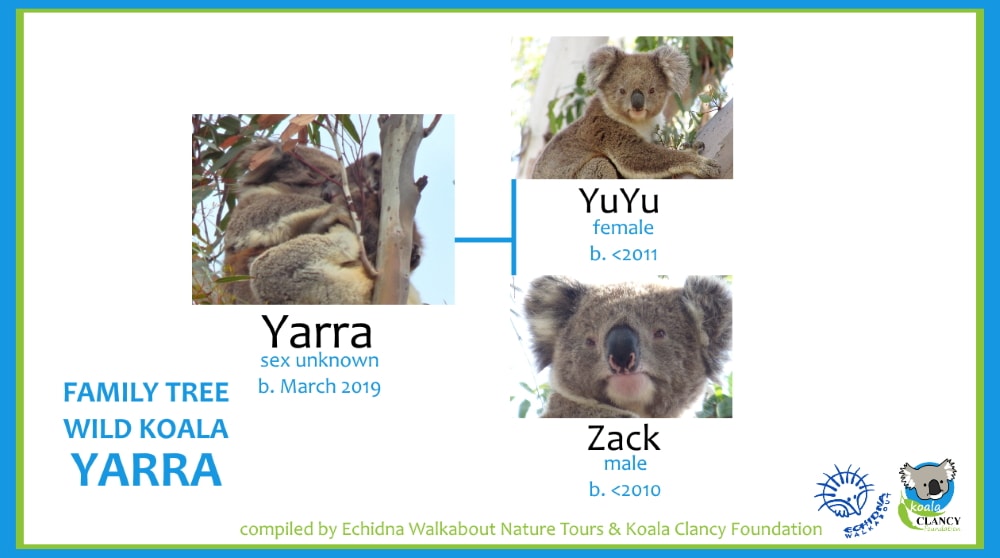 ..
Our Sunset Koalas & Kangaroos tour runs from 1 November until 28 February 2020, on Mondays, Thursdays & Saturdays. This tour is the best way to see koala babies, and their parents, active.
Note: we can't guarantee sightings of koala joeys on any tour, but the likelihood is much higher on the Sunset Koalas & Kangaroos.
..
NOTES & REFERENCES:
The Aboriginal languages of western Arnhem Land: https://bininjkunwok.org.au/
Aboriginal Culture of western Arnhem Land: https://injalak.com/culture/
About the Yarra River: https://www.coolaustralia.org/part-1-melbournes-yarra-river-a-lifetime-of-change-primary/