Conservation travel: Help nature while you enjoy it.
Echidna Walkabout is a conservation travel operator. All our tours include a Conservation Action.  Depending on the tour Conservation Actions may be small or extended components of the tour.  Conservation Actions range from light weeding to bagging up discarded fishing net, to helping a guide record birds for atlas submission.  They are designed to be fun and easy.  Combined, these small Conservation Actions achieved by thousands of guests on tours each year make a big impact.
Conservation Travel Australia was set up by Echidna Walkabout in 2021 to advocate to protect Australia's unique wildlife from climate change through an interlinked pathway: Experience ⇒Learn ⇒ Act.
Improving the environment on tours
Our Make a Home for Koala Clancy project removes Boneseed, an invasive weed that covers large areas and crowds out smaller native shrubs (particularly fruiting saltbushes) and grasses that are food for wallabies, kangaroos and a huge variety of small birds.  We are currently removing over 100,000 boneseed weeds annually.  Wild koala sightings in the 112 hectare region where we remove the weed have doubled  since the beginning of this program.
our not-for-profit Koala Clancy Foundation runs Koala Conservation Days for Locals twice a month with the purpose of educating local people about their wildlife, and removing Boneseed which hinders the movement of koalas.  Each locals day removes 5,000 – 8,000 weeds.
we take all rubbish with us when we go, often including anything we find left behind by others.  All natural products (95% of our rubbish) are brought back to base and composted.
we check the fireplaces left by others in the National Parks we visit, and put out any campfires left in a dangerous condition.
we gently inform other park users of the laws and codes of the National Parks. For instance we often stop and ask dog owners to put their dog on a leash while in the You Yangs Regional Park, which helps protect the wildlife.
we are active in promoting the care and rehabilitation of injured native wildlife.  The owner and several of our Wildlife Guides hold permits for wildlife rescue and care. Veterinary bills from any of our research Koalas that are hospitalised are paid by the company.
we train all our staff to look out for and report injured native wildlife. We stop and check road-killed animals, and often move them off the road to prevent native predators from being killed by cars whilst feeding on roadkill.
we drive slowly in National Parks and wildlife areas to avoid killing or injuring wildlife on the road.
as a serious and committed ecotour operator, our emissions from vehicle fuel have long been a concern for us. While we can't forego the use of vehicles, we do everything we can to limit unnecessary usage. This limits fossil fuel use by reducing vehicle travel.
Animal Welfare Policy: how we treat wild animals on tours
Echidna Walkabout has always been a strong believer that respectful observation of wildlife in the wild, living in its natural state, is the best form of animal tourism.
All our Wildlife Guides, Koala Researchers and staff members agree to and follow our Animal Welfare Policy:
• remain at least 10 metres away from wild koalas at all times
• keep a respectable distance from all wildlife, avoid surrounding the animal/s, and back off if an animal shows signs of fear or aggression
• avoid chasing or following wildlife that is attempting to escape
• avoid touching a wild animal
• avoid feeding a wild animal, and
• move slowly and quietly around wildlife.
Guides must also instruct tour guests about these requirements and must not permit a tour guest to disobey these instructions.
We developed the guidelines for koala watching back in 2006: Sustainable Koala Watching Code.
Echidna Walkabout Nature Tours fully supports World Animal Protections Wildlife Not Entertainers campaign.  We agree that wild animals belong in the wild.
We have taken World Animal Protection's pledge and encourage all travellers to do the same.  You can find the pledge here: https://www.worldanimalprotection.org.au/wildlife-not-entertainers 
On our tours you will not break your pledge.  You will see magnificent wild animals, and you will not be encouraged or able to touch wild animals or take close selfies with wild animals. Any photograph you take of a koala, a kangaroo, an emu or an echidna on one of our tours will be taken from a respectful distance, and will not do harm to the animal.
Australian Wildlife Journeys: our contribution to improving the tourism industry
Echidna Walkabout is very proud to be one of the four creators of  Australian Wildlife Journeys.  The collection's mission is to develop and grow respectful, responsible, quality wildlife in the wild tourism in Australia.
Australian Wildlife Journey's four creators: Craig Wickham of Exceptional Kangaroo Island in South Australia; Sab Lord of Lord's Kakadu & Arnhemland Safaris in the Northern Territory; Janine Duffy of Echidna Walkabout in Victoria and John Daw, Executive Officer – first began discussions to form the not for profit organisation in 2015.  Many volunteer hours later in 2016 the collection was launched by Tourism Australia as one of six Best Of Australia Program  (now Signature Experiences ) members.
The creators of this collection were drawn together by a common interest to improve the wildlife tourism industry: to improve viability and long-term success for respectful authentic wildlife tourism businesses (which traditionally in Australia have a poor success rate), to educate the industry about respectful interactions with wild animals, and to grow the conservation efforts of wildlife tourism operators.  Each of the creators brings over 20 years of tourism experience to this mission, and Craig, Sab and Janine each run a highly successful wildlife in the wild tourism business.
Read more here: Australian Wildlife Journeys
Reduce reuse recycle
we minimise vehicle travel and fuel use by employing local people and using local suppliers and businesses as much as possible.
we minimise off-road vehicle travel where possible. We do not use four-wheel drive vehicles for passenger transport – they are not required and their energy costs are high.
we avoid disposable plastic bags for carrying or storage of fruit. Instead we pack our fruit into re-usable, washable canvas bags for carrying, and store fruit in re-used stay-fresh green bags designed to keep food fresh. These bags are washed and re-used until they wear out.
we avoid disposable products. Our cutlery, crockery and food containers are all enamel, metal and hard recyclable plastic* (*will not be replaced – see below) and are washed and re-used.
We avoid plastic.  When a hard plastic item wears out we replace it with plant-based biodegradable alternatives, metal, sustainable timber, recycled paper or cardboard, fabric or wicker.
we transport food in hard containers which are washed and re-used, or in paper bags which are composted or recycled.
we discourage the use of throw-away plastic water bottles by recommending that travellers bring their own bottle which we re-fill on request with tap water from a large storage container. We do not provide disposable water bottles to our guests – if travellers don't have their own bottle we offer a cup which we wash and re-use.
we pack dirty dishes in washable fabric bags while on tour, rather than in plastic.
we compost food scraps. The compost is used on our bush property/wildlife refuge to assist the growth of native plants.
Wildlife Guide Training
All our tours are fully guided by experienced, highly-trained Wildlife Guides.
We train our Wildlife Guides to be enthusiastic, inspirational interpreters of wildlife.  Knowledge is critical, and they are encouraged to be constantly learning and improving their knowledge of wildlife.  But style and delivery is just as important – a great tour is not a lecture series – a great tour is an interactive, highly individual self-learning experience for travellers, conducted by a Guide who helps them to make new discoveries about the place, the animals and the environment.
Our Wildlife Guides are taught that silence is as important as talk – time for reflection helps memory; that action is more memorable than words; and that everyone learns differently – so listening, reading, seeing, feeling and doing things is incorporated into every tour.
Most importantly, every day is THE BEST DAY, and every creature is magnificent.
Our Wildlife Guides are trained to impart an environmental ethic that respects the animals and ecosystems that we encounter.  We inform our guests of the least intrusive way to behave around wild animals. We speak quietly around wildlife, walk slowly towards them, stopping often, and we insist that our guests do the same. We all remain at least 10 metres away from wild koalas as these animals are easily distressed but do not show it.  With macropods (kangaroos & wallabies) we watch their body language and stop before they feel forced to depart.  This is a self-imposed limit.  See also our Animal Welfare Policy.
We train our Wildlife Guides intensively and continuously and we encourage further learning on all aspects of the environment. Natural history books are available to all Guides on loan from our collection.
The owners, each with over 27 years experience with wildlife, are often invited to give talks to interest groups, universities and community groups about wildlife behaviour and working with Australian wildlife in the wild.  We often work with media, promoting the intrinsic value of wild animals, the region and the ethics of eco- and wildlife tourism.
Wildlife Habitat creation
The wildlife habitat we support is a privately owned property of 14.5 ha/36 acres in the Brisbane Ranges west of Melbourne, adjacent to the Brisbane Ranges National Park. 75% of the property is natural Box-Ironbark woodland – an important and endangered habitat type. The other 25% of the property was old lightly grazed farmland, mostly cleared but largely covered in native grasses.
The native Grasslands include Kangaroo grass, several varieties of wallaby grasses, spear grass, poa, weeping grass, native wildflowers and orchids, and are improving each year.  Native grasslands are one of Australia's most endangered habitat types with only about 1% of Victoria's grasslands remaining.
The aim for this site is to retain the existing habitat and improve it for the use of wildlife.  So far we have created a new wetland from the remains of an old shed foundation, planted hundreds of indigenous trees and shrubs, encouraged native grasses and improved the water quality of the existing wetland where we have frogs, yabbies and visiting herons, spoonbills and more.
We are creating wildlife corridors through regeneration and some revegetation, removing any weeds, and improving the diversity of the existing woodland.
We have a resident mob of Eastern-grey Kangaroos, at least 2 Swamp/Black Wallabies, the occasional visit from Koalas and Echidnas, and many birds.
Koala Clancy Foundation: our not for profit, planting trees for koalas
Echidna Walkabout created, and is the primary supporter of, the not for profit Koala Clancy Foundation  The foundation is set up to support, advocate and plant trees for wild koalas, particularly around the You Yangs and on the Western Plains of Victoria.
Started in 2015, the non profit fully registered charity relies on the donations and promotional reach of international travellers, and the willing hands of local volunteers and private landowners to restore koala habitat to the rivers and creeks of western Victoria.
Koala Clancy Foundation has planted 16,500 koala trees around the You Yangs, and in 2021 has plans to plant another 25,000.
Read about the wild Koala population decline and what we're doing to reverse it here. 
Here's a summary of the 2020 Koala Tree Planting Season: 9000 Trees.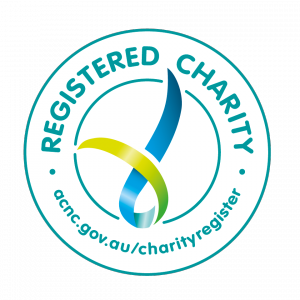 How we help koalas
Social enterprise Echidna Walkabout Nature Tours are the major supporter and donor of not for profit Koala Clancy Foundation.  Participants on Echidna Walkabout tours help koalas in these ways:
More than 50% of Echidna Walkabout's profit is invested in our mission: saving wild animals. Read about our mission here 
Echidna Walkabout's tours fund Wild Koala Research. Wild Koala Research has been conducted in the You Yangs Range and elsewhere since 1998.
All Echidna Walkabout tours that visit the You Yangs have an opportunity to remove Boneseed – an invasive weed that threatens koala habitat. Read about Boneseed removal in the next tab "Make a Home for Koala Clancy"
Koala Clancy Foundation plants thousands of koala trees, in places where they will benefit koalas most.  Trees, sites and quantities of trees are based on the results of the Wild Koala Research.
Koala Clancy Foundation runs regular Koala Conservation Days for locals*.  These days focus on educating local people about wild koalas and their needs, and importance to a healthy ecosystem.  Participants plant trees (June to August), remove Boneseed weed, or maintain tree planting sites.  *note: this is not a tour, it is a subsidized program for locals only.
Make a Home for Koala Clancy: weed removal in koala habitat
Since 2011 Echidna Walkabout's Make a Home for Koala Clancy project has removed:
1,500,000+ weeds to improve koala habitat.
..
By the end of 2021, with our support, Koala Clancy Foundation will have planted:
60,000 Koala trees
..
Echidna Walkabout's Koala Research from 2006 to 2016 showed that wild koalas rarely use eucalypts surrounded by thick infestations of Boneseed – an introduced weed. Read about why here.  So we decided to do something about it.
in 2011 the Make a Home for Koala Clancy weed removal project began. On every Koalas & Kangaroos IN THE WILD, Sunset Koalas & Kangaroos and Great Ocean Road tour, guests are offered the opportunity to remove a weed to help a koala. Though it is optional, guests participate enthusiastically, and most remove 10-20 weeds each. It is estimated that 50,000 weeds are removed every year on these tours.
In 2014 Koala Conservation Days for Locals were added to the project to educate and involve local people as volunteers. The days run once or twice a month and include weed removal, tree planting and maintenance and time spent learning about wild koalas. The cost of these days is kept low to encourage locals, and currently up to 80% of the cost is subsidised by Echidna Walkabout and Koala Clancy Foundation donors. Note: this is not a tour, and is not available to tourists at this subsidised price. Contact us for corporate and educational Koala Conservation Days.
It is estimated that 400,000 – 650,000 boneseed weeds are removed each year on Koala Conservation Days for Locals.
Boneseed weed removal has been good for koalas. In the area where weeds have been removed, numbers of koalas have increased by 70%, the area koalas use has increased by 460%, and sightings of koalas have increased.
In 2016 we planted 300 koala trees. In 2017 we planted 2,500 koala trees. In 2018 we planted another 2,000 trees. In 2019 we planted 2,800 trees and in 2020 we've planted 9,050 trees. In 2021 we ramped things up and have planted well over 25,000 and still counting
See some of the recent results from our tree planting and weed removal: Photos of Koala Conservation Days
Wild Koala Research: informing our tree planting program
In 1998 Echidna Walkabout's co-founder Janine Duffy discovered a revolutionary method of identifying individual koalas by their natural nose markings. That discovery launched a non-intrusive wild koala research project that continues to this day. Over the last 22 years every wild koala sighted in the You Yangs or Brisbane Ranges national parks has been photographed, named & identified, their sex established, location taken and tree species and height in tree noted.
Since 1998 we have tracked and monitored the movements and lives of over 108 wild koalas that we encounter on our tours and conservation days.  Each resident koala is named, photographed and identifying markings are noted.  These wild Koalas are not tagged, caught or handled in any way – they are identified by observation at a distance, through binoculars. Each day, every koala found is recorded with GPS, they are photographed, their tree species and their behaviour is noted.
This Wild Koala Research Project is our own initiative, and fully funded by our social enterprise tour company.  A Koala Researcher is employed one day per week to input data, Janine (owner) devotes at least two days per week to Koala Research analysis and advocacy. 
In 2018 Echidna Walkabout Koala Researchers were taking koala observations in the You Yangs on 313 days, and documented 1294 koalas. In 2017 Echidna Walkabout Koala Researchers were taking koala observations in the You Yangs on 311 days, and documented 1118 koalas.
See our latest Koala Research Report here.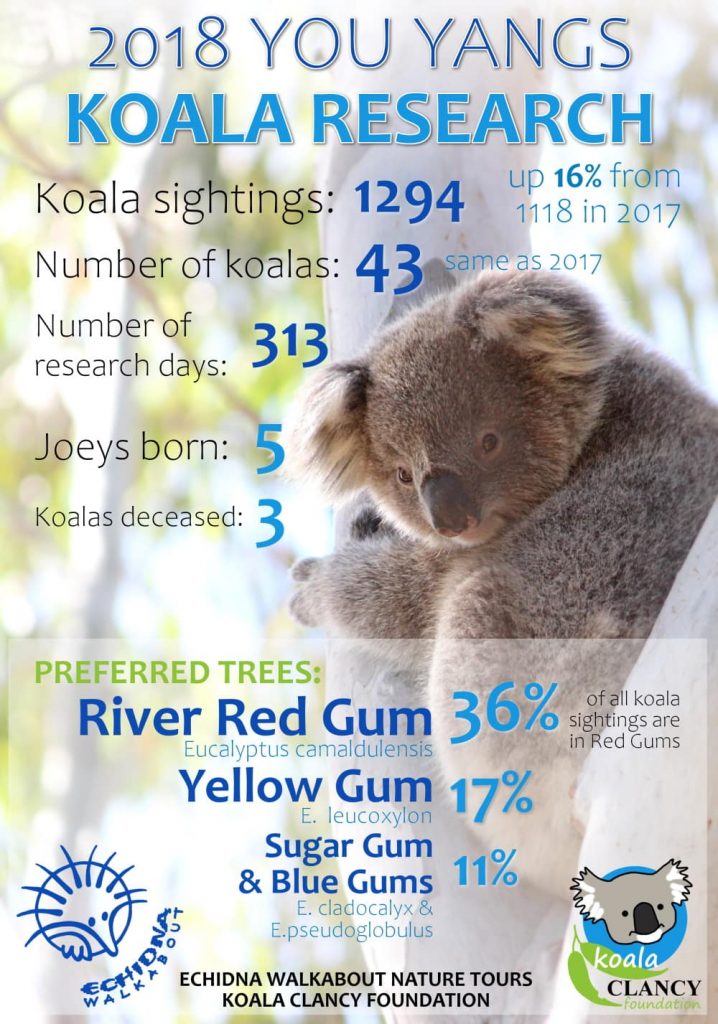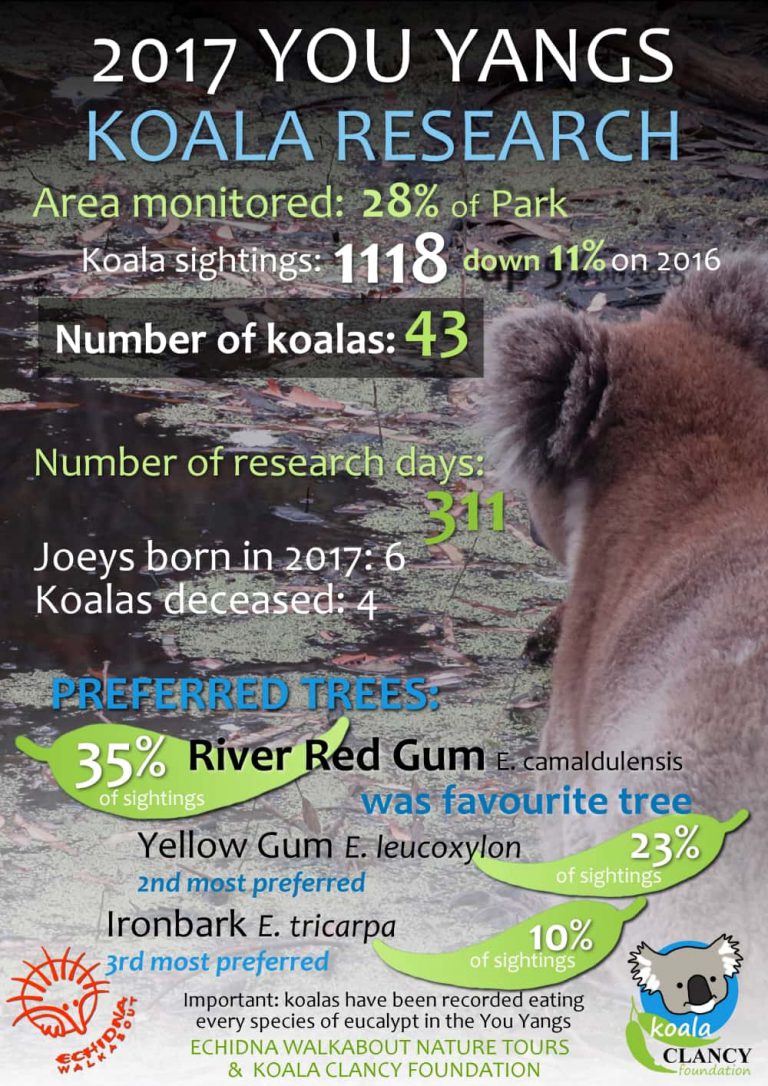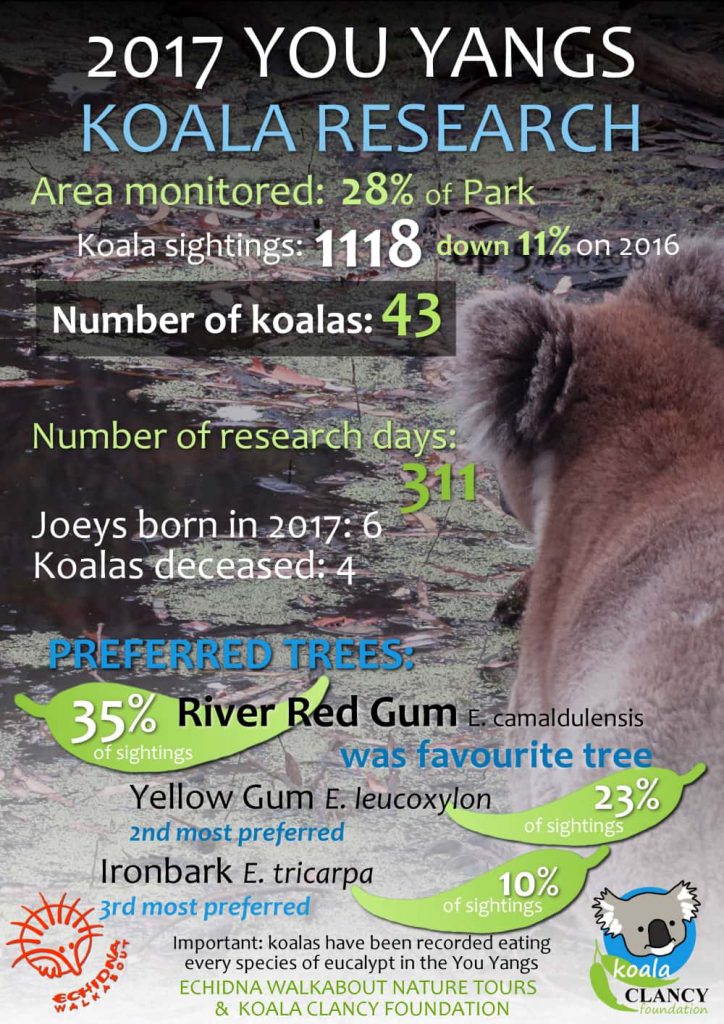 Echidna Walkabout has developed a non-intrusive method of identifying individual wild koalas by their nose markings. Read about it on the Global Post here. The nose marking identification method was presented to a US human dimensions of wildlife conference in October 2014, and published in The Wildlife Society and in more detail in their Vol 9 Number 3 Fall 2015 magazine The Wildlife Professional and on several news services including Paw Mane Fin, and is increasingly used by koala groups all over Australia.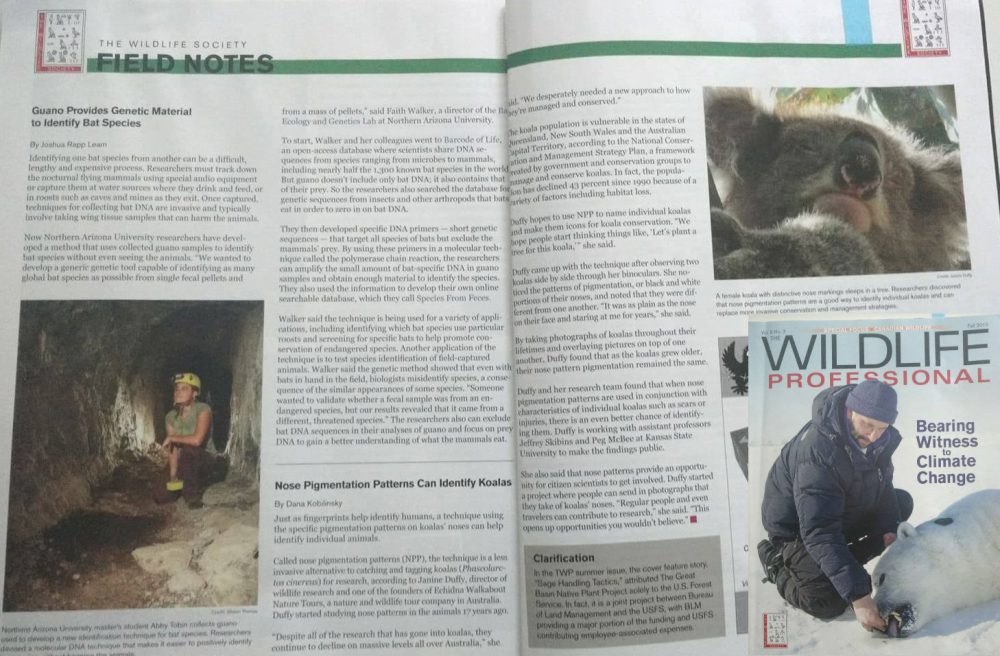 Ghost Net Removal: removing dangerous nets from the beaches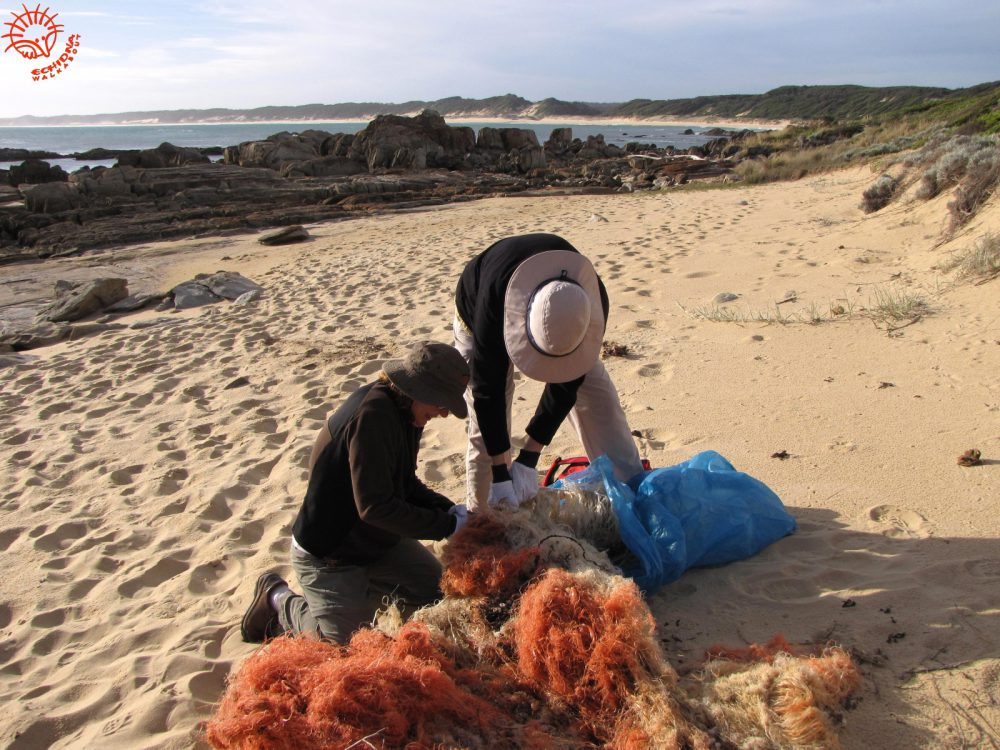 We did it!  Wildlife Journey guests and Wildlife Guides have removed all the ghost net from Cape Conran!
Read about this great achievement here: 
On the Wildlife Journey to East Gippsland guests have been offered an opportunity to remove Ghost Net – discarded fishing net – that has washed up on the beach.  This old net is an ongoing hazard for marine wildlife – it can wash back out trapping albatrosses, seals or dolphins, or it can degrade into pieces that fill the bellies of seabirds, causing them to starve.
From now on, we will be looking for another site for removing ghost net or another project.  Until we find that we will engage in a rubbish cleanup on the beach.
Pre-trip information
we call all extended tour clients the day before their tour to answer any questions they may have, confirm timings, what to bring, most suitable clothing and to give a weather forecast.
we recommend guests bring their own re-usable water bottle, to limit disposable water bottle use.
for day tours: we give all clients a note of introduction with important contact information, and a short summary of their day.
for extended tours: we give all clients detailed wildlife and natural history notes.
at booking stage we offer clients the opportunity to donate to our not for profit charity Koala Clancy Foundation or to buy merchandise that benefits the foundation.
Local Community Involvement
all our Wildlife Guides, Koala Researchers live locally – many in the smaller towns outside of Melbourne, close to the sites where we operate.
some staff are registered native wildlife carers
we are active members of the local Field Naturalists Groups and Bird Observers Clubs in the areas we work in.
we share our wildlife sightings with local people visiting the National Park – often passers-by notice our group looking at a koala, for instance, and so we invite them to join us for a short time to see and learn about the animal. This encourages local pride in the wildlife and in the area.
we regularly run Koala Conservation days for Locals. These events are extremely popular and usually have a waitlist. The purpose of these days is to educate local people about their wildlife, especially wild koalas – how to find and watch them sustainably and report on sightings. On these days we also remove thousands of weeds that are invading koala habitat.
right across Australia we always try to be involved in local community activities. Here are two examples: our Wild Top End trip includes a shorebird count to assist locals keep track of endangered migratory birds; both our trips to Ningaloo/Exmouth (whale sharks and humpbacks) involve the locals in better understanding and documenting both marine and land-based wildlife.
Aboriginal/Indigenous Involvement
from the beginning, the Wathaurong Aboriginal Co-operative have been involved in our planning and research for tours in their area.  They taught us what to say about their Culture and how to say it. They continue to be valued mentors to our business.
we promote and encourage Aboriginal–guided cultural interpretation on all group, special and private tours.
we employ Aboriginal Guides as much as possible.  No non-Aboriginal person should speak for the Aboriginal People of Australia.  In addition, we and our Aboriginal mentors teach our non-Aboriginal Guides about the protocols of dealing with, and speaking about, Aboriginal People
we create awareness and understanding of the local Aboriginal Culture by working with and learning from the local indigenous people, employing indigenous people where possible, including them in tours where possible and passing on respect for their culture to our guests and staff.
Office Procedures
we only use 100% recycled office paper from a reputable Australian-owned supplier: Ecocern..  When we can't avoid printing documents, we double-side and recycle our own.  All incoming paper is checked for a clean back and placed in the printer for another use. Our brochures and business cards are produced on 100% recycled stock.
we recycle all paper, glass and suitable plastics & aluminium through the local government recycling system.
our office and home use low-voltage light globes; all lighting, heating, computers and office equipment are turned off overnight; we avoid the use of air-conditioning in our office or home, but instead use ceiling fans in hot weather.
linen, tablecloths and our own clothes are dried on a washing line outside.  We choose not to have a clothes dryer.
we compost all food scraps and natural products.
water is conserved in our office – see Water Conservation
the wildlife habitat buildings are fully 6 star rated energy-efficient design incorporating passive solar collection, double-glazed windows, full insulation to ceilings, walls and under floors and use plantation and sustainably–harvested non-rainforest timbers throughout.
the property effectively uses solar power and solar hot water and outside lighting, a worm farm, compost bins, low energy/low water appliances.  Rainwater collected in tanks is used throughout and all grey/black waste is treated in an environmentally-friendly system which uses worms and other organisms to turn waste into safe irrigation water.
Water conservation
we clean our vehicles with one small bucket of water and an "Enjo"-style high tech re-usable cloth that uses no chemicals and very little water to clean. After use the water is put on our native garden.
we wash linen/tablecloths and all our own clothing in phosphate-free, biodegradable washing detergent in a modern front-loading washing machine that uses little water.
we wash crockery, cutlery and food containers using biodegradable detergents.
we limit dishwasher use to full loads only.
Energy Use
Our office is powered by 100% renewable green power
Our home is powered by solar electricity and solar hot water
Computers, lights, heaters and appliances are turned off overnight and when not in use.
Vehicles are serviced on time and maintained to ensure highest efficiency possible.
We are strong and vocal opponents of the coal and gas industry in Australia, particularly the proposed Adani Carmichael mega-mine on the Great Barrier Reef and the Beetaloo gas project in the Northern Territory.  We are members and donors to GetUp, Stop Adani, Wangan & Jagalingou Traditional Owners , the Australian Greens and many other organisations (see Membership tab)
Limiting plastic use
we refuse to use single-use disposable plastic.  We ask caterers to supply only washable, reusable crockery and cutlery and food containers.
on all tours (including large group tours) guests eat and drink off ceramic or metal plates, cups and metal cutlery.
we provide regular caterers with our own re-usable containers in advance so that they can pack take-away food.
we are phasing out use of hard re-usable plastics, eg food storage containers, and only replacing with glass, plastic alternatives like bamboo or corn starch, wicker, metal or recycled cardboard.
our staff are provided with re-usable glass or plastic alternative (bamboo) coffee cups for take-away coffee.
we do not use of disposable plastic water bottles.  On our booking pre-trip information it is recommended guests bring their own re-usable water bottle.  Our vehicles carry a large water storage container, and fresh water is offered as a refill in guest's own water bottle, or in re-usable cups.
plastic is filling our oceans and choking our wildlife.  The very least we can do is ban plastic supermarket-type bags in the big states of Australia.  Please sign here: Greenpeace Ban The Bag
Local production
where possible we buy only Australian fruit from independent small greengrocers.  We limit our support of giant multi-nationals like Coles or Woolworths to small-volume products we cannot source from independent stores.
we buy locally produced food made by an independent small business.
we support local independent shops and accommodation on our extended tours by eating-in at cafes some days and by ordering packed picnic lunches from our accommodation provider.
we contract local independently-owned environmentally-friendly printers, including  Argo Print and Design in Lara, VIC, and EnviroPrint Australia for our Koala Clancy books.  We source and support local business wherever possible.
we buy 100% recycled office paper, envelopes and stationery from Ecocern in NSW.
we try to source food and other goods that do not include throw-away packaging however this is not always possible. When plastic and other non-plant packaging must be used to comply with local health laws (for hygiene or other reasons) we do our utmost to ensure the packaging is recycled.
Memberships & Awards
Echidna Walkabout is a member of a number of international and domestic tourism organisation all of which aim to improve sustainable tourism or act on Climate Change: