by Janine Duffy
Devastating bushfires in the Australian summer of 2019-2020 has changed everything for Australian wildlife. Maybe it's time for us to change too: to change the way we travel. This year, consider using your holidays to help animals.
Following is a list of my favourite wildlife conservation tours in Australia.  Most of these stories you won't find on a website. They are stories I've seen first hand, tracked on social media personal feeds, or talked over with trusted friends. The true heroes of wildlife conservation show their dedication constantly, behind-the-scenes, often without fanfare. As a frequent wildlife traveller myself, who also runs a wildlife tour business, I look into the background of these experiences, compare the claims, the promotion and the reality.  These are the experiences that have really impressed me.
Travelling with any of these operators will ensure that you help wildlife, and have an incredible holiday.
..
I've grouped the stories by the type of conservation action: Hands-on Direct Action; Advocates; Behind-the-scenes; Donate; Tourism For Purpose; and "Gotta Do Something!"
…………………………………….
HANDS-ON DIRECT ACTION
Trust me, hands-on direct action is the hardest thing to build into a tour. We work-shopped our weeding program for 6 months before trialling it. We were planting koala trees with volunteers for 3 years before we introduced a version for travellers.  But direct action is the most satisfying conservation activity for travellers, and leaves a long-lasting impression.
…………
Echidna Walkabout Nature Tours – Janine Duffy & Roger Smith
Under the gum-trees in the You Yangs, a threat lurks. It's green and has a pretty yellow flower, but it's a killer.
Since 1985 Boneseed weed has been taking over koala habitat in the You Yangs, west of Melbourne. It grows thick, smothering native plants and shielding introduced foxes and rabbits. It blocks koalas from reaching the gum trees they need for food.
Our tours had been researching the You Yangs koalas since 2006, but we didn't see the effect of the weed until 2012. Koalas simply did not live where the weed was thick. So we started a conservation tourism program to remove it.
On every Koalas & Kangaroos IN THE WILD tour, Sunset Koalas & Kangaroos and Great Ocean Road tour, our travellers remove a weed, or ten. 10,000 tourists a year can remove a lot of weeds. The koalas love it, and our travellers love it.
Our newest conservation program gets travellers into direct action planting trees for koalas: Koala Recovery Experience.
………..
Trash Bags On Tour – Kathryn Farrell & Mel Tuliranta
Trash Bags On Tour is a most unusual tour operator. Kathryn & Mel educate participants through outings, events and activities that are run like a tour, but with a difference. They do tree planting, beach clean-ups, host expert talks on reducing waste and living sustainably.
Their next event is on 1 March: Find out more.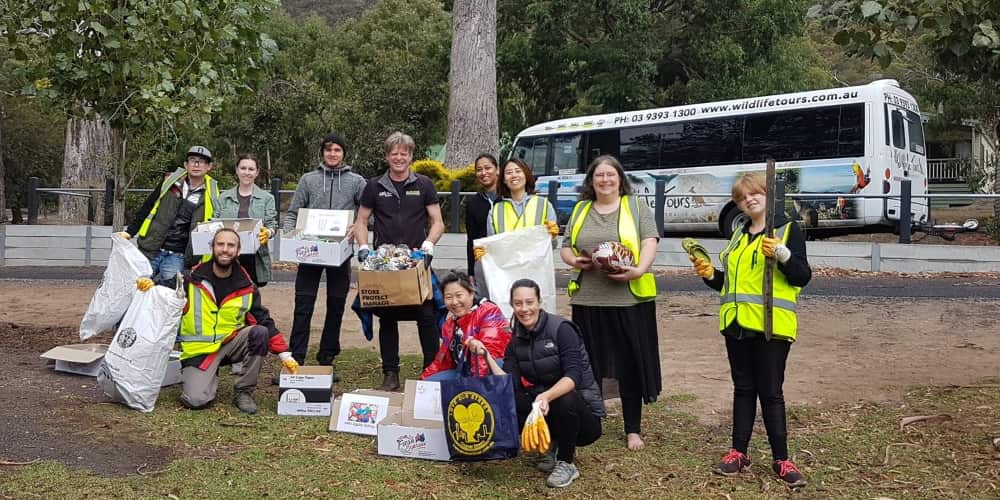 ………..
FNQ Nature Tours – James Boettcher
Following James' facebook feed is a whirlwind. One day he's down a drain rescuing an injured Agile Wallaby, the next he's birdwatching with guests at a private conservancy. I don't know where he gets the energy.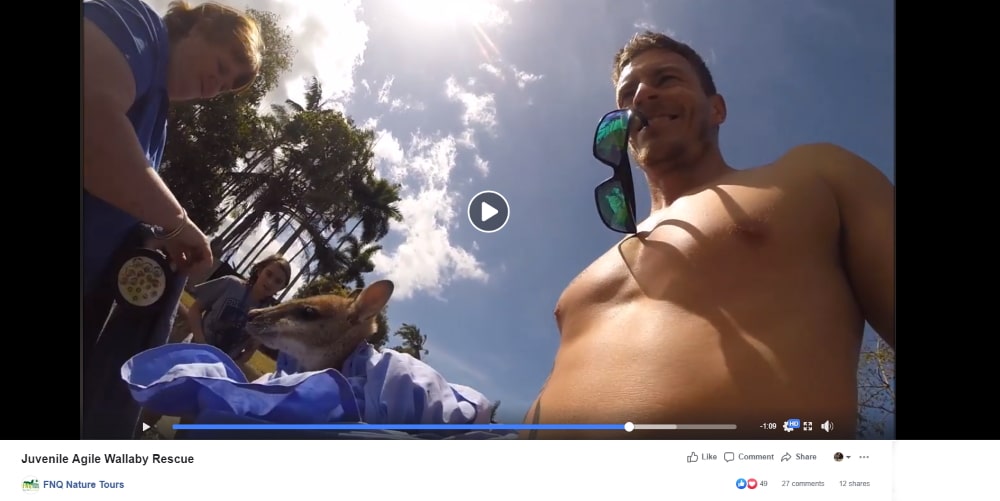 All James' wildlife rescue is voluntary and doesn't happen on tours. But his new Behind-the Scenes tour gets travellers to help endangered Spot-tailed Quolls – a rarely-seen marsupial carnivore. Travellers help scientists check camera traps, log sightings and behaviours, check food sources.
…………………………………………………..
ADVOCATES
Exceptional Kangaroo Island – Craig Wickham
Concern at lack of funding for wildlife conservation, and poor recognition of the value of the wildlife tourism industry, drove Craig Wickham to form an advocacy group… of his rivals. I know, because I am one of them.
I'll never forget the phone call: "We could do more together," said Craig. I agreed, and Australian Wildlife Journeys was born. A Tourism Australia-endorsed network of Australia's top wildlife-in-the-wild tour operators, dedicated to showcasing, protecting and advocating for wild animals in the wild.
Craig has devoted countless hours to this project. It took the founding members: Craig, Sab Lord from Lord's Arnhemland Safaris and me, with John Daw the Executive Officer, two years of volunteer work to set up the group.
Learn more: www.australianwildlifejourneys.com
……..
Inala Nature Tours – Tonia Cochran
In 2015 the Tasmanian Forestry Department announced a plan to cut down forest, home to six endangered species, on Bruny Island. Tonia Cochrane, owner of Inala Nature Retreat on Bruny Island, went into action, calling on media, her networks in the tourism and birding communities, past clients and the public to get the proposal stopped. Her advocacy stopped the logging plans.Tonia has long been at the forefront of wildlife conservation in Tasmania, and headed the steering committee for the plan for threatened species on Bruny Island.
…………..
I've put advocates near the top of this list, because I believe that advocacy is one of the most effective contributions tourism can make to conservation. Advocacy work is hard to see, difficult, background work with many failures and few successes. We find ourselves constantly working on advocacy projects, ranging from stopping mines to pushing for better protection for koalas.
Roger Smith, my partner, is Echidna Walkabout's main advocate.  With a small community team he was responsible for stopping a sand mine in the You Yangs. Read about it here, or listen to a radio interview.
Finally, we achieved a state government-decreed mining free zone in and around the You Yangs.
…………………………………………………..
DONATE
Wildlife charities are experts at running conservation programs. Tour companies are experts at running tours. Why should a tour company create a conservation project of their own – why not just donate to one that already exists?
………..
Orangutan Odysseys
Orangutan Odysseys presented to the Wildlife Tourism Conference in 2015, putting the case for serious, dedicated fundraising to a wildlife charity.  Their approach impressed many.  Since 2011, Melbourne-based Orangutan Odysseys have raised $1million for not for profit The Orangutan Project.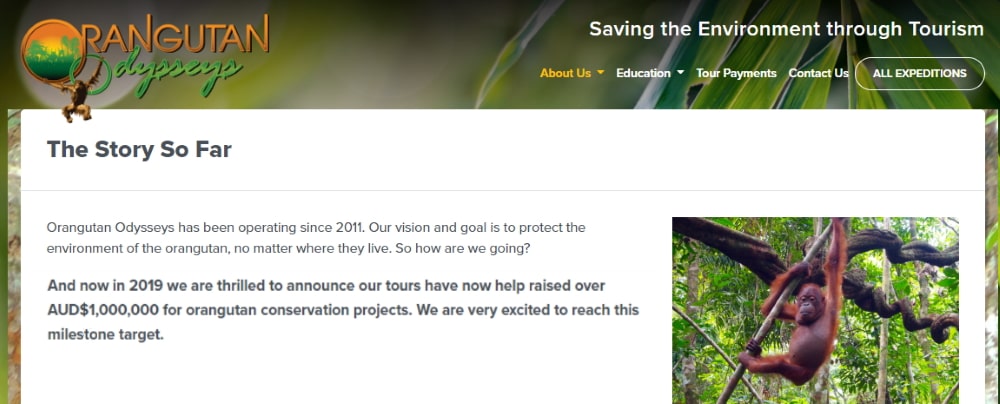 …………
Koala Clancy Foundation – Janine Duffy
In our case, there was no wildlife charity to protect the koalas of the You Yangs. So we started one. Koala Clancy Foundation, Inc is a fully registered not for profit charity, set up with a specific aim: to save the koalas of the You Yangs region from climate change.
Every Echidna Walkabout tour has a built-in donation to Koala Clancy Foundation. In 2019, over $45,000 was donated to Koala Clancy Foundation by Echidna Walkabout. Those funds have been used to plant 7,500 trees and remove 650,000 weeds.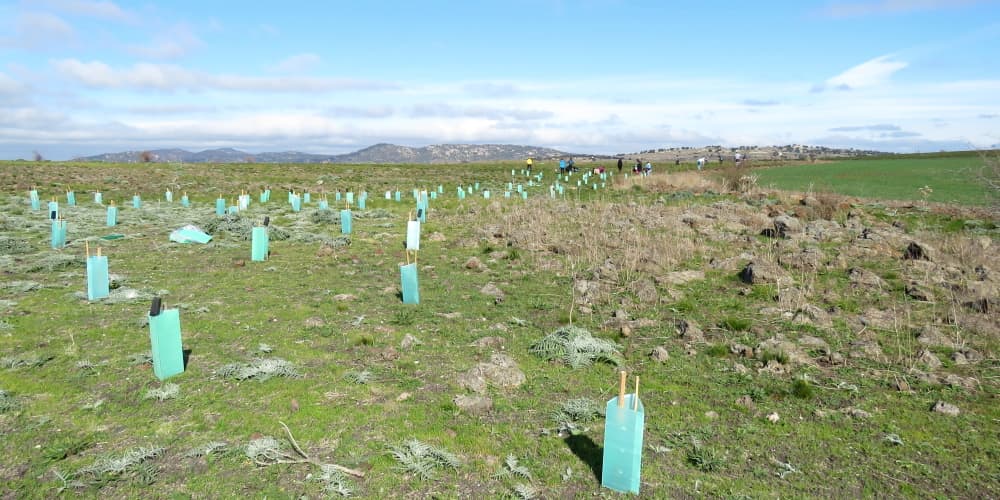 ……..
Bellbird Tours – Peter Waanders
Birding specialist Bellbird Tours also donates to wildlife charities through their Oreioca Fund.
……..
Hidden Secrets Tours – Fiona Sweetman
Fiona's business is a perfect example of tourism supporting a charity that aligns with their values and daily experience.  Hidden Secrets have a built-in donation to  Street Smart, an Australian charity that works to prevent homelessness.  Hidden Secrets Tours run walking tours through the laneways of Melbourne, and homelessness is very obvious to the guides and travellers. Rather than walk past it, Fiona decided to do something about it.
………………………………………………………
TOURS FOR PURPOSE
Why should tours be only for fun, when doing good while having fun is much more satisfying?  The following tours combine pleasure and contribution.
………
Naturaliste Charters – Paul Cross
Wildlife research is underfunded in Australia. Marine species in particular are difficult and expensive to study, and increasingly under threat from oil and gas exploration, coastal development, warming seas and climate change. One way for scientists to get data on marine species is to hitch a ride on commercial or tourist boats.
Paul Cross, owner of Naturaliste Charters – a whale watching operation near Bunbury – learned about the amazing wildlife of Bremer Bay, Western Australia. He also learned how poorly understood it was, and the difficulty of protecting wildlife when there's no data.
So he set up Bremer Canyon Killer Whale Expeditions. It was a leap of faith, and I'm sure he invested a great deal. The expeditions have been a success, recording extraordinary behaviour of Orca, Blue Whales, and rarely-seen Cuvier's Beaked Whales.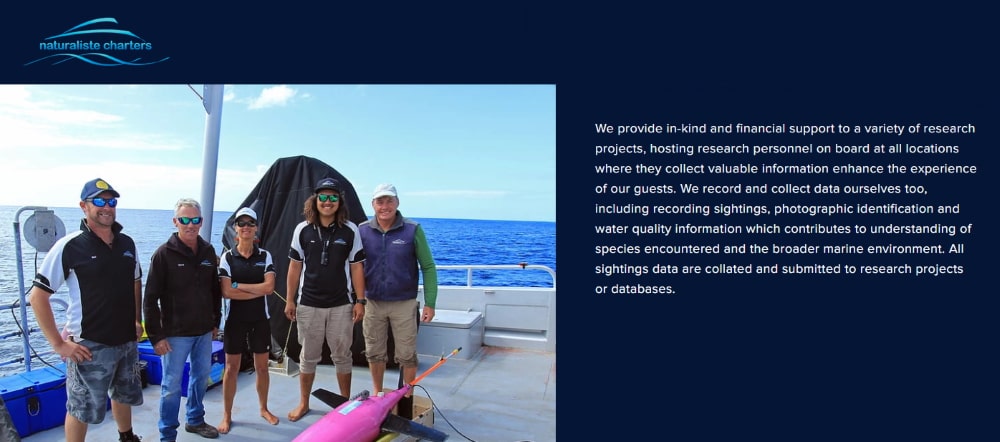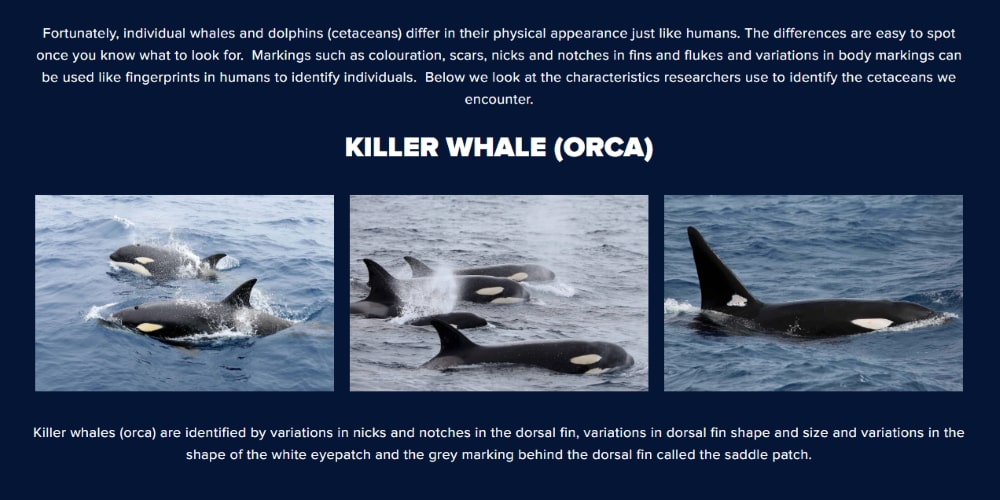 …….
Arkaba Conservancy – Charles Carlow
Arkaba Conservancy also runs an important conservation program in the Flinders Ranges SA, funded by tourism. In just 10 years they have removed thousands of feral animals, including goats, foxes and cats, creating a safe habitat for over 5 million native animals.
…………………………………………………………
BEHIND-THE-SCENES
This sort of conservation work often goes unnoticed, and in most cases the operators are not doing it for recognition, and receive no recompense for their time.
……..
Gecko Canoeing & Trekking – Mick Jerram
On a September day in the Northern Territory, Mick Jerram from Gecko Canoeing & Trekking drives in, hot and dusty, from guiding early morning bird-watching for festival participants. All he wants is sleep, but there's work to be done.
50 Gouldian Finch nest boxes are painted and ready in his shed, but they need entrance tubes to stop predators getting to the babies. For the next two hours Mick cuts and drills until the boxes are ready. Later that afternoon Mick welcomes the eager participants: Aboriginal kids from the local school, volunteers attending the Katherine Bird Festival, and Gouldian Finch scientists, and together they work on installing the nest boxes in bushland.
Katherine Bird Festival is now an annual event, drawing wildlife tourists to the Nitmiluk region of the Northern Territory. The festival is Mick's, and his friend Marc Gardner's, creation, and he volunteers many hours to making it happen.  See great pictures from Katherine Bird Festival on Facebook.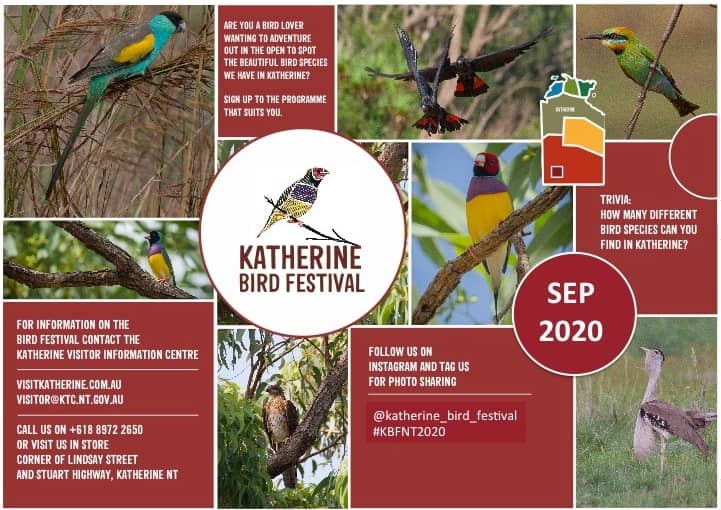 ………..
Exmouth Dive and Whalesharks – Debbie & Mark Ferguson
Debbie & Mark's business is all about the wildlife. Every crew member is genuinely enthusiastic about marine animals – from the big and spectacular Whale Sharks and Manta Rays, to the sea stars, sharks, rays and tiny fish on Ningaloo Reef. As part of every Whale Shark cruise, a professional photographer takes standardised photos of every Whale Shark spot pattern, every Humpback Whale tail and every Manta Ray belly. These images are submitted to scientific sites for research.
In Debbie's spare time she volunteers monitoring marine turtles and Black-flanked Rock-wallabies.
0412 712 623 or (08) 9949 1201
…….
Lakes-Explorer – Skipper Pete
On the beautiful Gippsland Lakes system, a boat is out with researchers on board. Skipper Pete uses his commercial boat to help scientists monitor the shorebirds of East Gippsland beaches. In addition, when travellers are on board, he encourages them to help with bird surveys, by giving them instructions, a survey sheet and links to submit observations.  He is also very active in promoting shorebird conservation on social media.
……
Wildlife Coast Cruises – John Dickie
Wildlife Coast Cruises helped establish the annual Phillip Island Whale Festival, and remains one of the major supporters.

..
…………………………………………………………..
"GOTTA DO SOMETHING!"
When you see something that is wrong, you gotta do something about it.
……..
In East Gippsland on our Wildlife Journey we have walked along the magnificent beaches of Cape Conran looking for seals and birds for years.  The rocks of the headland were littered with orange piles of discarded fishing net.  The net was a death-trap for wildlife while out at sea, and the bones of animals could still be seen in some of the net.  Even on land the net remained a hazard – rusty hooks were caught up in its unbreakable mass.  Big storms washed the net back out to sea, potentially killing even more wildlife.
We decided we couldn't walk past it any longer, so started removing it on tour.  It wasn't as easy as it looked – the nets are incredibly heavy, tangled amongst rocks, and held together by huge cables.  We invested in special knives and scissors, and ended up taking out one or two rubbish bags of net each trip.
Over about two years we removed it all.  Read about it here. Now we are looking for a new conservation project!
…………………………………………….
As a tour operator for 28 years, I see the inner workings of tour companies – what can be done, what can't. I see the difficulties faced by others in this industry. Time and money are usually the biggest challenges we face: most tourism business owners are working 7 days a week, and most small tourism businesses are not profitable.
But these operators do conservation work because they believe in it. Tourism in Australia is more than a business – its a privilege. Every day I work with koalas. For that great honour, I am happy to give countless volunteer hours.  I'm sure every one of these operators feels the same.
Come to Australia and use your holiday to help Australian wildlife.
Note: Every locally-owned Australian tourism business contributes to the local economy by creating jobs and industries that protect wildlife and nature. Most operate at best practice for the environment. If you can't find an operator who does conservation work, you can still do good by booking with a locally-owned business.