Indi
Origin of name:
Indi is one of the traditional Aboriginal names for the Murray River that divides Victoria from New South Wales. It is particular to the upper reaches of the Murray – near its source in the high country of far East Gippsland.
..
Known since:
Indi was first seen on 15 July 2019. She would have been born around mid January 2019.
..
How often seen:
Indi was seen 13 times in 2019, always with her mother.
..
Family:
Indi is Kozo's first joey, and the first known offspring of new dominant male Mabo. Indi now has a little brother, Balyang.  Through Kozo, Indi has a grandmother: KiKi, aunts and uncles Mimi, LuLu and Lara, a great-grandmother YuYu, all still living nearby. That's three generations of one wild koala family: a dynasty!
..
Neighbours:
Not known yet. She has not been seen since becoming independent, which doesn't mean she's not nearby, just that she's shy.
..
Interesting notes:
We were particularly excited to hear about this baby, because we were worried about Kozo in the extreme heat events of January 2019. She seemed lethargic, not coping with the 46 degree C heat and we had to spray her with water multiple times. We thought it might be because she was young, just 2 years old, but we now know that it was because she was pregnant with Indi. No wonder she was tired.
It is incredible that both mother and baby survived those extreme heat days.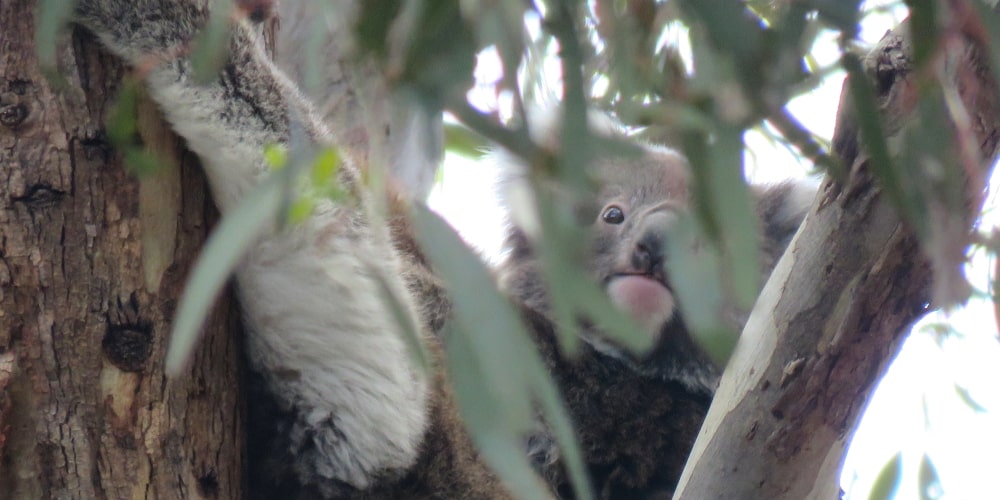 ..
Survived extreme heat/drought catastrophes:
Indi has survived the following extreme heat waves and droughts.
2019: 20 December max temp: 46C
2019: 30 December max temp: 44C
..
Media Appearances:
none yet, but some big ones coming soon!
..
How do we have so much research data about Indi?
Echidna Walkabout's Wild Koala Research Project has been monitoring the koalas of the You Yangs and Brisbane Ranges for 21 years. In 1998 we discovered a non-intrusive method of identifying koalas by their natural nose markings (nose patterns). Since then we have been collecting koala research data during tours, and using it to advocate for koalas, plant trees where they are most needed, and remove weeds to improve koala habitat.
Koala Researchers employed by Echidna Walkabout are paid to find koalas and collect information +/- 310 days every year.
All our tour guests play an important part in this research, by making it possible through funding, and by looking out for koalas on our tours.
Learn more:  https://echidnawalkabout.com.au/about/conservation/