Wildlife Across Australia
Mertens Water Monitor Kakadu
Create your wildlife journey...
Australia is a big country with a surprising array of habitats: from desert to rainforest; from temperate to tropical; from mountain to sea. Millions of years of separation means many of our plants and animals are unique.
But sometimes they can be hard to find if you don't know where to look.
Since 1993 Echidna Walkabout has operated customised wildlife experiences across Australia.
"We know special places and exceptional people all over the country which means we can create unique and creative wildlife journeys for couples, families, small parties and groups," says Roger Smith, Echidna Walkabout's head of Operations.
"We do this is by connecting itineraries then adding extra destinations or special places as required to suit your timing and needs."
One thing is guaranteed – all your wildlife experiences will be in the wild, meticulously planned and led by Australia's top Wildlife Guides PLUS everywhere you travel you will be helping wildlife while you enjoy it.
Here we set out a number of ideas and concepts for discovering Wildlife Across Australia. Contact us for more information and let us plan your tailor-made wildlife trip.
Tropics, deserts, forests & oceans
---
Maximum Wildlife is our premier wildlife journey linking three major Australian bioregions, two World Heritage Areas and one World Biosphere Reserve. With free days and flight hops this trip spans about 3 weeks – it can be shorter or longer. You can add a Koala Researcher for a Day experience to this trip or you may like to take a look at our Great Ocean Road extension.
the tropical Top End of the Northern Territory in Mary River National Park and Kakadu World Heritage Area (Wild Top End)
the deserts and sand dunes of Mungo National Park and the Willandra Lakes World Heritage Area (Mungo Outback Journey)
the tall temperate forests and coastal wilderness of East Gippsland, famed for its abundant wildlife and Croajinglong National Park – a World Biosphere Reserve  (Wildlife Journey)
North of Capricorn
---
We've connected three remarkable wildlife locations – all north of the Tropic of Capricorn – to bring you this unique wildlife charter. It can be adapted for groups, couples or small parties. Highlights include:
Swimming with Humpback Whales (Exmouth, Western Australia)
Wader watching at the famous Broome Bird Observatory (Broome, WA)
Crocodiles and much more in Kakadu and Mary River National Parks (ex Darwin, Northern Territory)
Mammal research (Quolls) and birds and Great Barrier Reef (Cairns, Queensland)
This trip arcs across northern Australia from the Western Australia semi-arid Outback, through the tropical monsoon escarpments and the giant rivers of the Top End then on to the wet tropics and rainforests and the Great Barrier Reef of far North Queensland. The best months for wildlife and weather are August thru September.
Intro
across australia portfolio
Australia's best wildlife conservation experiences
Maximum Wildlife
Wildlife across Australia
Humpbacks
Ningaloo - swim with Humpbacks
Wild Top End
Tropical wildlife discovery
FNQ
quoll research & bird surveys
Help one of Australia's rarest animals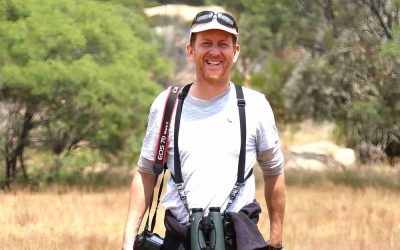 Travel with top bird guide, Martin Maderthaner, with Australian Geographic and discover new birds.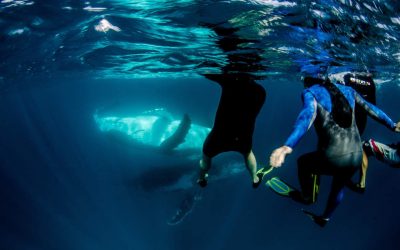 Citizen Science, sophisticated dive boats, spotter planes, waterproof radios and years of experience make our humpback swims at Ningaloo unique. Conservation is paramount. Featured photo: "....two dark ghosts become mighty Humpbacks"  (Sara Barbieri - Exmouth Dive)...
Well known bird guide, Tim Dolby, will lead Mungo Outback tours.