Wild Top End
Small Groups (& Private Tours)
19 to 25 August 2024
7 day wildlife tour Northern Territory: Kakadu & Mary River National Parks
Australia's tropical outback – The Top End – is a wild land where Brolgas fly across the sunset, huge crocodiles laze on riverbanks and sandstone shimmers with the world's oldest art. But even here wildlife faces threats.  Shorebirds (waders) fly to Australia's Top End from Siberia & the Arctic, encountering disappearing habitats and shrinking food resources.  One of our conservation mission on this trip is to help protect them while they are in the Top End.
 Feel the timeless peace of a landscape full of wildlife and very few people
Wake to the manic calls of flying-foxes and cockatoos, look out across a billabong filled with water-lilies, walk on magnificent rocky escarpments created 600 million years ago.
Help conserve and protect endangered shorebirds by counting them at regular roost and feeding sites.  These long distance world travellers are threatened by human disturbance, so our conservation mission is to help grow awareness amongst the community. 
Get to know Kakadu and Mary River National Parks including some of the lesser-known walks and rock art sites and the mighty rivers of these parks.
Travel with an experienced naturalist Wildlife Guide who will show you where to look for wildlife and how to record what we see for Citizen Science.
Prices
Wild Top End 7 days
Prices are Australian Dollars (AUD)
Lower rates may apply to groups of over 12 adults if all booked together
Prices are for fixed departures
Private tours arranged on request
CURRENCY: Australian dollars (AUD)
VALIDITY: Valid from 1 April 2023 to 31 March 2025.
TWIN SHARE: Price includes twin/double share standard room.
SINGLE: add this cost if you do not wish to share your room with another person
SMALL GROUPS: Minimum 6 Adults - Maximum ~10
ACCOMMODATION IN DARWIN: is NOT included in our price but we can arrange this for you on request.
CHILDREN: The adult rate applies for people from 13 years upwards. Please contact us for a price for children below that age OR for Family rates.
*SPECIAL ADD-ONS:
ROOM UPGRADE at ANBINIK:For the first 3 nights you can upgrade from a standard Bush Bungalow to an Anbinik Suite. Contact us for pricing
GULUYAMBI CULTURAL CRUISE: See Day 4 of the itinerary. Low cost add-on for an incredible 2 hour trip on the East Alligator River. Contact us for details
"As wild as it gets, staggering biodiversity"
Your Wild Top End – Northern Territory – wildlife tour begins in Darwin, taking 7 days to explore the wildlife and flora of Kakadu National Park, the tropical rivers of the Top End, and the grassy plains and billabongs of Mary River National Park. Tour returns to Darwin.
Day 1 : Darwin
Introduction to Darwin and the Top End
This day's activities depend on the tides.  You will be informed of timing well in advance.
Your Wildlife Guide picks you up from your Darwin accommodation and takes you out to an important shorebird (wader) site to help count and record these threatened birds.
Darwin is home to intertidal zones (mudflats, beaches, estuaries, mangroves) that are critical to a wide variety of birds that migrate along the East Asian-Australasian flyway every year.
Some of our shorebird sites are highly used by the public, and disturbance from humans and dogs is the biggest threat to these birds.  We take the opportunity to encourage locals and visitors to meet us* while we count, to discuss shorebirds and their challenges, and take home a free booklet.
Before or after our visit to the shorebirds, we may visit some of the other wildlife highlights of Darwin, possibly including the Darwin Botanical Gardens and East Point.  Plus you get to meet your fellow travellers.
You can also join us for dinner that evening. Contact us for more information
Accommodation: your first night in Darwin is at your own expense (or we can arrange accommodation at an extra cost)
Meals: not included for today
Potential wildlife sightings today: a broad variety of migratory and local waders along the beaches, finches, owls, pigeons & doves, bower-birds, thick-knees, Agile wallabies, dragonflies and butterflies. Vegetation varies from savannah woodlands to monsoon rainforest, beaches and wetlands.
* this is done in a very welcoming atmosphere.  Passers-by see a sign encouraging them to join us. We don't confront, or force people to engage – we seek only to help interested community to learn on their own terms.
NOTE: this itinerary is an indication only. Due to conditions on the tour, weather and National Parks requirements, it can change slightly to maximise wildlife viewing opportunities.
Day 2 : into Kakadu
Darwin to Kakadu/Jabiru via Fogg Dam and Mamukala Wetlands
Explore two of the Top End's most famous wetlands
After an early pick up from your Darwin accommodation we'll head eastwards into the tropical outback. The road from Darwin to Jabiru is sealed for its entire length and makes for very easy traveling. On the way we'll stop at a number of beautiful locations including famous Fogg Dam (part of the Adelaide River floodplain) where we'll take our first walk into a monsoon forest and view some of fantastic birdlife and wildlife of the Northern Territory. Then we'll get on our way crossing a number of the huge rivers that drain the tropical wilderness including the Mary River where we might see our first crocodile. We enter Kakadu National Park and stop at Mamukala Wetland and take a walk to get our first taste of the tropical wonders of Kakadu. We'll end the day in the small town of Jabiru and move into our accommodation. (staying here 3 nights).
Accommodation: Anbinik Jabiru (tonight and 2 more nights = 3 nights total). Our price includes wonderful Double or Twin Share accommodation in Bush Bungalows with external bathrooms (private to you). You can upgrade to a private cabin (en-suite) – contact us for more information.
Meals: Lunch and Dinner
Potential wildlife sightings today: Fogg Dam and Mamukala Wetlands are famed for waterbirds including Brolga Crane, Glossy Ibis, Magpie Goose, Black-necked Stork (Jabiru), Wandering & Plumed Whistling-ducks, egrets, herons, pratincoles and many more including finches, herons, raptors & honeyeaters. We may see crocodiles, pythons, lizards, dragonflies and butterflies. Vegetation varies from savannah woodlands to monsoon rainforest and wetlands.
Day 3 : Lightning Man Kakadu
Nourlangie Kakadu
Aboriginal Heritage, black kangaroos, red winged parrots, sunset at Nawurlandja.
The Nourlangie region will be our first access to the magnificent Arnhem Land escarpment and its unique wildlife. It also helps us to understand the enormous importance of Kakadu to the Aboriginal People. Ancient sandstone ranges rise directly out of the Kakadu floodplains in a landscape that epitomises the Dreamtime in Australia. We'll visit a number of places in this region including the Nanguluwur Rock Art site, Anbangbang Billabong and Nourlangie Rock Art site – this last site contains some of the most powerful Aboriginal paintings in Australia including a depiction of the Lightning Man. All the names in Kakadu rise from Aboriginal languages. You will begin to feel the incredible power of this landscape. After a picnic lunch we'll head back Anbinik for a siesta (or a swim in the pool) during the heat of the afternoon before heading back out to the bush to watch the sunset over the Kakadu escarpment from Nawurlandja lookout. Twilight often heralds the flight of tens of thousands of fruit bats winging their way silently through the tropical dusk – an incredible sight. We then return to Jabiru for dinner
Accommodation: Anbinik Jabiru
Meals: Breakfast, Lunch and Dinner
Potential wildlife sightings on tour today: our walk to Nanguluwur early this morning can yield an incredible array of bush birds ranging from tiny finches to the large Red-tailed Black Cockatoo. Rare Chestnut-quilled Rock Pigeons may come to drink at a small spring near the rock art site and we may see Partridge Pigeons and Red-winged Parrots. At Nourlangie we often see Emerald Doves and sometimes Sandsone Shrike-thrush. A highlight of this locaton may be the sighting of Black Wallaroos, a localised mid-size kangaroo unique to this region. Anbangbang Billabong is host to a myriad of waterbirds, many species of water lilies and Estuarine Crocodiles (one day we watched a crocodile hunt and kill a pelican at this location). The fruit bat fly-out in the evening has to be seen to be believed.
Day 4 : Ubirr's Rock Wallabies
Wildlife of Ubirr & Jabiru
Morning at Ubirr – East Alligator River. Afternoon – wildlife around Jabiru.
Many who visit Ubirr come away as different people. It is possibly the most beautiful place in Kakadu with some of the most compelling wilderness landscapes on earth. It has a presence that takes humans back to their beginnings. Nearby the tidal (saltwater) section of the East Alligator River bounds the vast Aboriginal lands of Arnhem Land – to go any further requires special permission. But on the Kakadu side there is a wide variety of activities to choose from including gentle walks near the river, views of elaborate Aboriginal Rock Art sites or a climb to the top of Ubirr Rock with its stunning views across Kakadu. We'll also take the Bardedjilidji Sandstone walk which take us deep into some of Kakadu's most remarkable geological formations where we learn how the Kakadu Escarpment was formed millions of years ago. During the heat of the day we'll return to Jabiru followed by a rest then a refreshing swim in the pool before heading back out in the afternoon explore wildlife in and around Lake Jabiru.
Accommodation: Anbinik Jabiru (last night here)
Meals: Breakfast, Lunch and Dinner
Potential wildlife sightings today: The Ubirr region is one of the few places where it is possible to see the dainty Short-eared Rock-wallaby. There are also occasional sightings of the Black Wallaroo. Estuarine Crocodiles are common in the East Alligator River and surrounding billabongs. Some special birds are the Blue-winged Kookaburra, Brolga, Pheasant Coucal and Peaceful Dove amongst many others. The town of Jabiru is rich in wildlife especially around Lake Jabiru. We often see very large colonies of both Little Red and Black Flying Foxes flying out for the evening, huge flocks of Little Corellas coming in to roost, occasional Partridge Pigeons and many species of finches.
Optional tour today: Aboriginal guided boat tour out into the wilderness of the East Alligator River. This 2.5 hour tour is remarkable; it follows the river upstream beside brilliantly coloured sandstone escarpments and provides a full commentary by a local Aboriginal guide about the significance of Arnhem Land to Aboriginal People. The highlight of the trip is the opportunity to take a walk on the east side of the river onto Aboriginal land – normally this would require a special permit so this is a very special experience. The tour costs approximately $80 for an adult with discounts for children. For more information please check out Guluyambi Cultural Cruise.
Day 5 : Safari Drive
Enter the Mary River National Park
Into the vast Mary River catchment: Jabiru to Point Stuart Wilderness Lodge.
Today we travel westward out of Kakadu to Point Stuart Wilderness Lodge beside Mary River National Park. Our route takes us firstly along the paved Kakadu Highway then onto the dirt roads heading north into Mary River National Park. On route we'll stop at a number of special little places, visited by few, but very beautiful. We sometimes see Dingoes and the elusive Antilopine Kangaroo. We'll finish up at Point Stuart Wilderness Lodge, check in, cool off in the pool, then take a peaceful walk through Jimmy Creek rainforest right beside the Lodge. Here you'll see the huge nesting mounds of Orange-footed Scrub Fowl – a bird the size of a chicken that builds nests up to 3 metres high! The grounds of the Lodge abound with the beautiful little Agile Wallaby. Cockatoos and parrots of various species abound. Overnight at Point Stuart Wilderness Lodge (there is a swimming pool at the lodge and a saloon bar). In the afternoon you will experience some of the ultimate magic of the Top End with a special open vehicle safari and walking tour beside the magnificent wetlands and billabongs on the vast Opium Creek private reserve.
Accommodation: Point Stuart Wilderness Lodge (tonight and tomorrow night = 2 nights total)
Meals: Breakfast, Lunch and Dinner
Potential wildlife sightings today: Agile wallabies abound in the Mary River catchment and this is one of the best places to see the largest kangaroo in the Top End – the Antilopine Kangaroo which moves around in small family groups through the endless savannah woodlands. Dingoes regularly roam the savannah searching out prey and carrion. Opium Creek is a refuge for the Australian Bustard and the Brolga. The Rose-crowned Fruit-dove is often heard and occasionally seen in the monsoon forest and the Pied Imperial-pigeon often bursts out of the forests canopies. Hundreds – and sometimes thousands – of Little Corellas fill the trees during the heat of the day and come down to feed and drink in the evening. One of the most unusual and spectacular birds in this area is Channel-billed cuckoo, a very large cuckoo which is most often see hurtling across the sky at high speed.
Day 6 : Crocodile Cruise
Mary River by river and road
Crocodiles in the Wild in a wetland wilderness.
The Mary River is famous for its abundant wildlife including some of the largest crocodiles in the world. These tough reptiles have outlived the dinosaurs. The Freshwater Crocodile is reclusive and will usually flee from humans. On the other hand the Estuarine (Saltwater) Crocodile can be an unpredictable and dangerous creature. Both are magnificent and regal animal and, if treated with respect, they can be seen at very close quarters. This morning we can see crocodiles in their natural environment as we travel in a specially constructed boat to view them – and lots of other wildlife – on the Mary River. With luck you will see numerous large Saltwater Crocodiles and some smaller Freshwater Crocodiles. You'll also see an unbelievable variety of birds including White-bellied Sea Eagles – the Mary River is famed for its abundance of this raptor which may be seen nesting beside the waterways. Lunch will be a picnic on high land overlooking the huge Mary River catchment. Late today we head as far north as we can go where the Mary River becomes a vast delta and floodplain 15 kilometres from the sea. In this remote location – surrounded by wildlife of all kinds – we enjoy our final sunset looking out over the waters of the Mary River. Huge Saltwater crocodiles often swim lazily (and safely) nearby. As the night rises we head back to the Lodge for dinner.
Accommodation: Point Stuart Wilderness Lodge
Meals: Breakfast, Lunch and Dinner
Potential wildlife sightings today: The Mary River is home to just about every tropical bird in Australia and, as much of the catchment is relatively undisturbed, we often see large numbers of individual species. Some specials are: finches of many types including the increasingly rare Gouldian Finch, numerous raptors including the Black-breasted Buzzard and some very special owls ie. Rufous and Barking Owls, White-bellied Sea-Eagle, Brahminy Kite, Falcons (Hobby, Brown, Black and Kestrel). Birds of the waterways include: Little and Azure Kingfisher, Black Bittern, all the Australian egrets, Glossy Ibis, Jabiru Stork, Brolga and much much more. The Mary is one of the prime places on earth to see crocodiles of two species plus we may see turtles, fish and other fresh and saltwater species
Day 7 : Bird Billabong
The wonders of Bird Billabong – Point Stuart to Darwin
A grand finale before returning to Darwin
Today after an early breakfast we head out into the bush before sunrise for our last special Northern Territory wildlife walk at Bird Billabong in the Mary River National Park. This large wetland – unlike any others we have visited – is nestled beside Mt Bundy Range, an ancient granite outcrop in the middle of the Mary River catchment. Thousands of birds move to this billabong as the surrounding country dries after the monsoon season. Every conceivable species of bird move across the water in huge multi-species skeins fishing and squabbling. The surrounding savannah is home to hundreds of wallabies that appear at every turn of the walking track. Raptors regularly visit in search of prey, creating havoc as they fly over the wetland. This is one of the wildlife tour highlights of the Top End. After a relaxing morning walk we'll depart to Darwin having lunch on en-route. You will be dropped at your accommodation in Darwin OR we can arrange transfers to Darwin Airport if you are flying out today.
Suggestion: stay overnight night in Darwin and check out some of the fabulous Aboriginal Art Galleries in town. We recommend Provenance Arts.
Next day, fly direct to Melbourne, stay one or two nights, then join our Mungo Outback Journey tour and see the parrots and Red Kangaroos of the Outback.
Accommodation: not included (by others if required in Darwin)
Meals: Breakfast, Lunch
Potential wildlife sightings today: even if you have only a mild interest in birds, Bird Billabong is spectacular. This wetland often contains huge numbers of whistling-ducks (both Plumed and Wandering), Spoonbills, Ibis, Magpie Geese and Pygmy Geese amongst many others. Jabiru often appear. Great Bowerbirds build their bowers in the nearby grasslands and are often seen and heard around the billabong. Near the granite range we often see the elusive Black-tailed Treecreeper and have also seen the northern form of the Southern Boobook owl. A variety of finches are also seen in the grasslands.
Scheduled & Private options!
Join a scheduled departure OR book a Private tour
Scheduled Departure
The small group Wild Top End trip begins in Darwin, the capital city of the Northern Territory.  We have one or two scheduled departures from Darwin in late August and early September each year.
Private Wild Top End
This extraordinary trip is often booked as a Private tour any time between June and late September for small groups, families and couples. If you have special interests (ie. photography or birdwatching) and would like this trip all to yourself we are happy to arrange a special trip just for you. This trip is especially suited to specialists as it delves deeply into wildlife.  Contact us for more information.
Wild Top End Connections
This extraordinary trip is often booked as a Private tour any time between June and late September for small groups, families and couples. If you have special interests (ie. photography or birdwatching) and would like this trip all to yourself we are happy to arrange a special trip just for you. This trip is especially suited to specialists as it delves deeply into wildlife. Contact us for more ideas and see our Maximum Wildlife and Across Australia options
Conservation : giving back
Conservation component
Just by being there, you are helping wildlife – your Wildlife Guide records all species seen and uploads this data to online atlasses for wildlife conservation purposes. We'd love you to help us do this!
On this wildlife safari you will be offered the opportunity to give back in a number of ways including two specific projects that you can help with:
1. Shorebird Count
This very important activity is carried out in Darwin on Day 1 of the trip and is overseen by locals representing Birdlife Australia. All sightings are carefully recorded to help with research into declining numbers of shorebirds all over the world. We also work to help locals understand the importance preserving and protecting shorebird feeding and roosting sites.
2. Citizen Science
One of our conservation actions for this Northern Territory Top End wildlife tour is to record and submit all significant native animal sightings from this trip to online atlasses for the benefit of science, education and conservation.  Tour guests are encouraged to participate whilst on the tour, by locating animals, photographing or mentioning them to the Wildlife Guide.  We also encourage guests to submit their own sightings to eBird.org and ala.org.au
Finally any interesting wildlife we see is recorded in the iNaturalist app as part of our commitment to Citizen Science
These activities are completely optional, but they are fun and an exceelent way of giving back to wildlife. We provide all equipment necessary to perform the task
Details - when, where, how?
 Travel with the best of the best!
See Australian animals IN THE WILD with a top level Echidna Walkabout Wildlife Guide.
Location: East of the city of Darwin including Kakadu and Mary River National Parks and many other smaller parks including Fogg Dam. We also spend some of the first day investigating the wildlife of Darwin.
Duration: 7 Days, 6 nights
Grade/Difficulty: easy to moderate (for anyone who is reasonably active)
Group Size – Minimum 4 adults   Maximum ~10
Departs: from Darwin hotels on Day 1 for Darwin section of the trip and returns to the same location on Day 1. On Day 2 departs to Kakadu.
Returns: to Darwin on Day 7.
Or book a Private Tour just for your party.
Private tours will be customised just for you – please contact us with your group size & interests.
NOTE: the itinerary is an indication only. Due to conditions on the tour, weather and National Parks requirements, it can change to maximise wildlife viewing opportunities.
Inclusions & Accommodation
Tour  Inclusions
Tour Leader: your guide will be one of our Level 4 (highest level) Echidna Walkabout Wildlife Guides who has also completed an intensive "Kakadu Knowledge for Tour Guides" course overseen by the Australian National Parks Service and by Local Aboriginal People.

Includes: wildlife guidance throughout, 5 nights accommodation, all meals from lunch Day 2 to lunch Day 7, air conditioned transport, wetlands cruise on Mary River and wildlife safari drive across Mary River floodplain.
Notes: Wildlife and natural history notes will be provided to guests at beginning of this tour
Meals on tour: All meals are included, from lunch on Day 2 to lunch on Day 7. NB Vegetarian, gluten-free, pork-free or other food preferences should be noted at the time of booking. Some meals are carried on board the vehicle, or ordered in advance. We can only cater for allergies and special food preferences that we are informed of in advance.
Transport: In our comfortable air conditioned vehicle.
Optional Add-ons: See the add-ons dropdown for some exceptional add-ons to this tour
Accommodation
Anbinik Kakadu (3 nights): twin/double share, in simple but elegant architect designed bungalows with external personal-use bathroom with shower, vanity and full-flush toilet – upgrades available to ensuited rooms for an additional cost – please contact us for details
Point Stuart Wilderness Lodge (last 2 nights): twin/double share ensuited rooms
NOT included: 

accommodation or meals on Day 1 in Darwin

, alcoholic beverages, flights and airport transfers into and out of Darwin before and after the tour
What to bring - personal stuff
What to bring on the Wild Top End
Packing list: After you book this tour a complete Packing List and other personal information will be provided but here is an overview: Strong walking shoes or boots, outdoor clothing to suit variable weather conditions (please check weather forecast for accurate predictions), sun hat, rainproof coat, small torch (flashlight), insect repellent, 15+ sunscreen, daypack and 1 litre re-usable water bottle. Camera and binoculars are recommended. You should also bring swimming gear.
As space is limited please keep luggage to 1 duffel bag OR 1 backpack OR 1 small suitcase per person.
Drinking Water: Tap water is completely safe and drinkable and available at both accommodations on this tour, and a large fresh storage is carried on board the vehicle each day. We recommend you bring a re-usable water bottle which we can refill during the day. If you don't like to drink tap water we highly recommend you bring a filter to reduce plastic waste.
Pickups & Cancellations
Pickups in Darwin.
At time of booking, we will arrange a pickup time from your Darwin city accommodation. Please provide a contact phone number or accommodation details.
Please be ready at the pickup point 5 minutes before the pickup time to ensure you get out to the wildlife as quickly as possible.
After your tour you will be returned to the same location as pickup or to Darwin Aiport.
Cancellations
Add-ons
Exciting wildlife add-ons to your Wild Top End trip
While you're in the Top End why not try travel further ans stay longer…this is one of the most exciting destinations in Australia for wildlife. Here's a few ideas to add to your trip:
Guluyambi Cultural Cruise (Day 4) : on this exceptional add-on your Aboriginal guide will escorts you on a cruise up the East Alligator River into Arnhem Land. Over two hours you will see some of Australia's most spectacular landscape, view rock art sites thousands of years old and learn about bush food and medicine.
Maximum Wildlife: this is one of our most popular concepts that has been taken up by many previous guests on our tours. The idea is to link a number of our extended tours together to create a fabulous journey into some of Australia's best widlife viewing locations. Read more here Maximum Wildlife and here Across Australia
Pre and Post tour options
Ideas for before or after your tour
If you are going to Darwin a few days before the tour, or staying after here's a few things you can organise yourself…..
Sea Darwin arranges special afternoon/evening boat trips across Darwin Harbour to look at turtles nesting. This brilliant trip is run by a respected company and includes dinner.  5% of the cost of the trip goes to turtle research.  To fit in with nesting cycles around high tides this trip runs according to lunar cycles ie. new moon and 5 days after. Sea Darwin also run other trips – check out their website for more information.
Deckchair Cinema There is nothing like going to the cinema under the stars and Darwin is a great place to do it.  The wonderful thing about this place is that you can also have dinner and a drink at the cinema before the film. Highly recommended and lots of fun. You can book online.
Here are a few more things you can do in Darwin that are completely free:

Darwin started life as a remote colony and its early colonial buildings are wonderful. You can view the beautifully old Administration buildings (and some of the newer buildings) on a walk along the Esplanade on the south-eastern side of the city.
You can link the above idea up with a walk through Bicentennial Park. See this Google map
One of our favourite places in Darwin is the Museum & Art Gallery of the Northern Territory located here. It has exceptional displays of Aboriginal culture and art and you can get a great overview of the natural history of the region.
The Mindil Beach Sunset Market is legendary in Darwin. Great food abounds so have dinner while you are browsing​.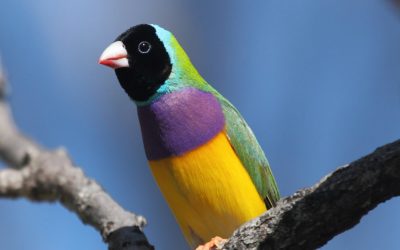 Come to the Katherine Bird Festival this...
read more
Notes from the Wild Top End