Australian reptiles are a highlight of our Mungo Outback Journey tour.
Lizards are plentiful in the sandy, sunny mallee woodlands and saltbush plains of Mungo.
Here are some of the reptiles we have seen on tour in the Outback:
Goannas/Monitors
Goannas (Monitors) are some of the world's largest lizards. On the Mungo Outback Journey tour we have seen two types:
Lace monitor / Goanna Varanus varius
The Lace Monitor lives in areas with trees. They forage on the ground and in trees, climbing expertly using their sharp claws. This one was spotted in Hattah-Kulkyne National Park.
…………………………
Sand goanna Varanus gouldii
Sand Goannas are energetic predators seen throughout Outback Australia. They have a slimmer head than a Lace Monitor, and more yellow colouring on their sides and belly.
………………………….
Dragons
Dragons (Agamids) have an upright posture, long legs and small, rough scales. They often have a pronounced neck and triangular head.  They are fast and active predators.
On the Mungo Outback Journey tour we see three types of dragon reptiles:
Mallee Military Dragon Ctenophorus fordi
Mallee Military Dragons search for food in open areas and quickly run into grasses for protection if threatened. They are usually seen in dry sandy areas with patches of spinifex grass (Triodia sp.).
……………
Painted Dragon Ctenophorus pictus
Painted Dragons are swift-moving, beautifully-coloured reptiles. They live in desert, favouring shrublands and hummock grasslands. We have seen them on dry Lake Mungo amongst the saltbushes.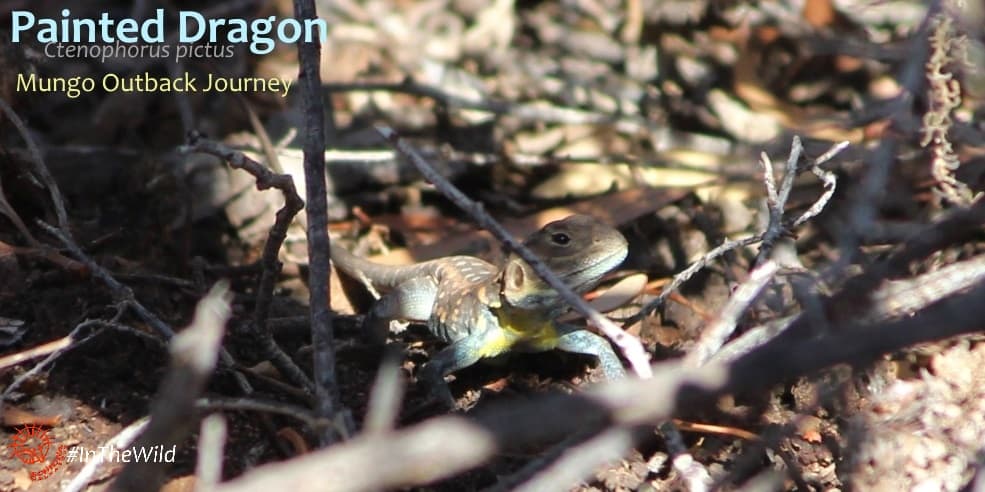 ………………..
Central Bearded Dragon Pogona vitticeps
Bearded Dragons have a row of spiky scales across their throat that looks like a beard. They are large, and often seen in Mungo National Park basking on the sand, or on a fencepost.
………………………..
Skinks
Skinks usually have smooth scales, short legs, a low horizontal posture and no neck. Some are swift, but the larger species are slow-moving. We see two types on the Mungo tour:
Royal Ctenotus Ctenotus regius
The Royal Ctenotus is a reptile with a slim body and long tail. They are fairly small, strongly patterned and dart around during the day, hunting insects in open woodland habitat.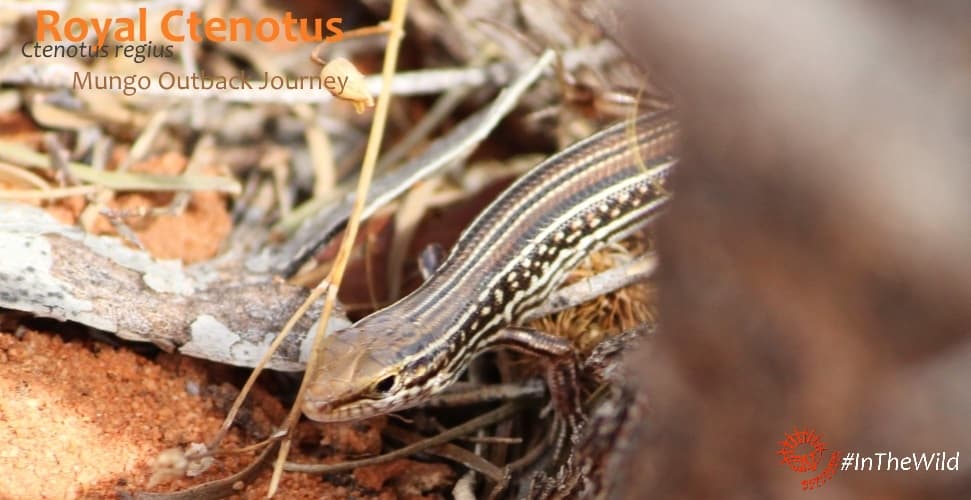 …………………………
Shingleback / Stumpytail / Pinecone Skink / Sleepy Lizard Tiliqua rugosa
Shinglebacks are large, slow-moving, short-tailed lizards with a broad body and short legs. Their tail and head look similar, which may make it hard for predators to know which end to attack.
Shinglebacks have a fascinating social life – read about it here.
………………………
Love reptiles? Here's the best places in Australia to see other reptiles.