by Janine Duffy
Tiny Fireworks in The Outback!
Australia's boom and bust cycle is obvious in The Outback – arid lands can slumber for decades, then wake up for two years and turn on a party, with fireworks, food, singing and loving!  We were lucky enough to be on the Mungo Outback Journey for such a boom in November 2016.
My partner Roger and I went exploring near the Great Darling Anabranch, near Mungo National Park in Outback Australia (near Mildura and Wentworth), before meeting our Ventures Birding Tours Group for a 4 day tour. There had been rain, so we were hopeful of seeing something special – waterbirds probably. But what we saw was not what we expected.
Walking across a saltbush plain beside the flooded, ancient course of the Darling River in the late afternoon light was magical. A few birds could be heard singing – Pied & Grey butcherbirds, Little Ravens, Red-rumped Parrots. I revelled in seeing the flooded Anabranch for the first time and wondered if I'd ever see it again. Then an eruption stopped my thoughts.
A flock of six Blue-bonnet Parrots burst into flight from under my feet. They flew into the River Red Gums lining the Anabranch and looked back at me – their adorable, embarassed-looking blue faces all turned my way.
I took a few steps closer to photograph them, and another flock flew up, all cobalt wings and sunflower-yellow shoulders.
All along the Anabranch, flocks of 4 to 10 bluebonnet parrots were feeding on some delicious party food in the saltbushes. Every few steps I would disturb another group.  The Mungo Outback provided one of the most thrilling experiences in nature I've ever had.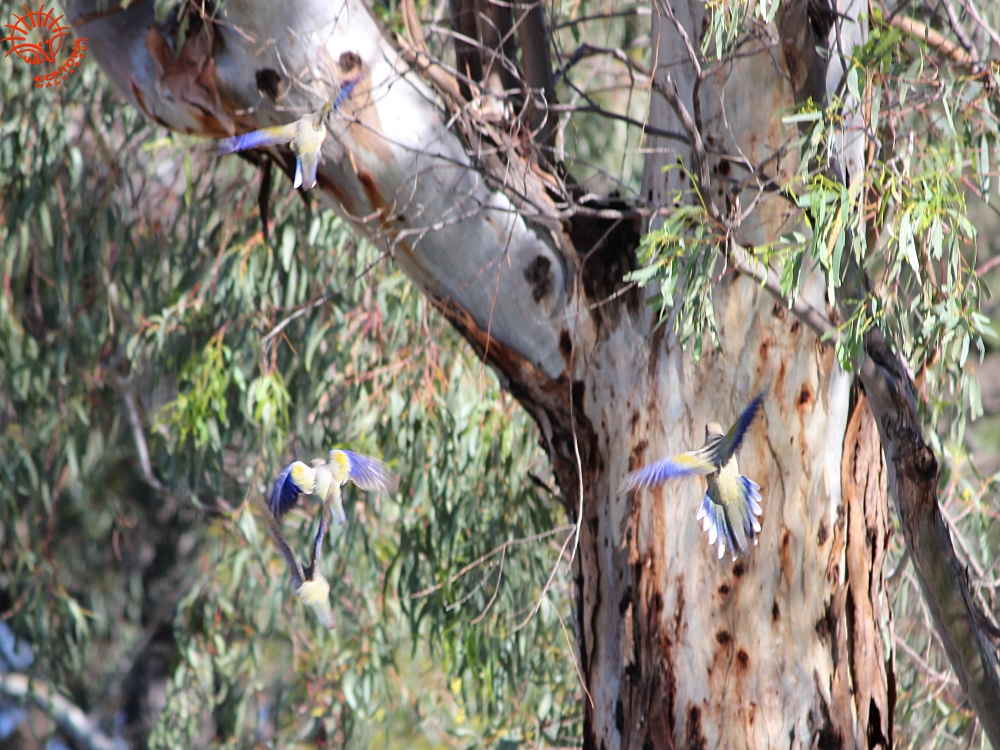 The next day we returned with our bird group, fingers privately crossed for a similar show. We knew, after 25 years of wildlife guiding, that you can never take animals for granted and that there was a good chance we wouldn't see a single parrot.
We all walked together, quietly. At the point I had seen the first flock – nothing. I steeled myself for disappointment. Then about 100m further along they erupted. And erupted, and erupted. It was like tiny fireworks exploding from the ground every step.  Watch:
This time the flocks included huge numbers of Red-rumped Parrots, alongside the Blue-bonnets. Turquoise and emerald green joined the sunflower and cobalt party. My relief and gratitude fixed a goofy smile on my face for the rest of the day.
We estimated we saw 150 Red-rumps and 75 Bluebonnet Parrots in a 200metre stretch of riverbank near Mungo.
If you venture up there any time in the next year or two you might be lucky enough to watch this spectacle. There's been rain in this part of The Outback, and the wildlife will party and make love on the abundant food for some time.
Echidna Walkabout's 4 day Mungo Outback Journey is available for small private parties from March to November every year.
Read about some of the other families of animals seen at Mungo.